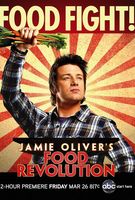 TV Info
---
Episode Premiere
March 26, 2010

Distributor
ABC

Genre
Reality

Show Period
2010 - 2011

Production Company
Fresh One Productions, Ryan Seacrest Productions


Synopsis
---
Jamie returns to chat with the radio host who gave him such a hard time when he first came to town. He tries to defend the comments he made about Huntington, but the radio jock still won't buy Jamie's selling. It's going to take time to get him, and a lot of folks in Huntington, on Jamie's side.
Some kids come to Jamie's kitchen for an experiment that never fails. Jamie shows them how chicken nuggets are made. He chops up the bone, skin, giblets and carcass of a chicken. Everything gets mulched and mixed with stabilizers and flavoring. The finished product is patted down and cut into a patty. Remarkably, every single kid says they'd still eat the nugget. Remember how we said this experiment always works? Not today.
Jamie makes what he hopes will be a triumphant return to Central City Elementary School. The kids won't have a choice today. They'll only be getting fresh food, nothing processed. To help sell the menu, Jamie dresses up like a giant pea. He calls himself Mr. Pea. Catchy name. Mr. Pea serves up a tuna-pasta bake with seven veggies in a lovely tomato sauce, mixed salad and homemade focaccia bread. It does not go over well.
After ditching the Mr. Pea outfit, Jamie goes from the cafeteria to the classroom. He asks the kids to identify things like tomatoes, potatoes, eggplants and cauliflower. The kids have trouble naming the items, but have no problem identifying chicken nuggets, pizza and French fries. Jamie says, "If the kids don't know what stuff is then they will never eat it." He has one more chance to prove himself in the school.
Jamie pops in on Stacie Edwards to see how she's making out with the recipes he left. Stacie's husband, Tim, is back from his road trip. Though Stacie claims to have cooked the food Jamie left for her, he can't help but be a little suspicious about the inventory that remains in the fridge. Adding to his doubts are some fast food cups strewn about and the fact that Stacie's daughter, Katie, claims her favorite meal of the week was pizza. Hmmm.
The family takes a road trip to the hospital for a checkup. It's a tense time as Jamie, Stacie and Tim wait for test results to determine if Justin has diabetes. The good news is that he doesn't have the disease...yet. Tim tells Justin they are going to work together as a family to turn things around and lose some weight.
Later, Jamie has Justin over to his kitchen to cook some chicken stir fry with noodles along with different herbs and spices. Justin has a great time and the dish looks pretty tasty. Then Jamie tells Justin the most important reason to learn how to cook. It'll help him get the girls.
Back at the school, Jamie convinces the principal to let him meet the parents. During a demonstration in the school yard, Jamie pours a month's worth of meals (like nachos, fries and chocolate milk) into the center of a giant tarp. He then dumps a truckload of disgusting saturated fat into a bin to show what's being fed to their kids throughout the year. Jamie's point has been made. The parents vow to support him in his mission.
Jamie returns to the classroom where the kids couldn't identify the vegetables. He learns that the teacher, Mrs. Blake, took it upon herself to correct that situation. She taught the kids all about veggies. Jamie quizzes the kids. They ace the test. We have to give an A-plus to the teacher and her assistant, as well.
Back at the school, Jamie is amazed to learn that the kids don't use knives and forks. He believes this attitude suggests they have no use for real food at the school. The staff is able to scrounge up some cutlery for Jamie's latest meal. The principal pitches in to help some first graders use the knives to cut the food. When the kids actually eat what's being served, Jamie gives them a sticker that reads "I've tried something new." Now it's up to Rhonda, the person in charge of all school food, to decide if Jamie has earned the right to continue his work.
Before the final decision is made, the school cooks are asked to come out to the cafeteria to accept some appreciation cards from the kids and a heartfelt thank you from Jamie, as well. Then Jamie gets the news he's been waiting to hear. The costs are up and Rhonda has not received an analysis of meals. If Jamie agrees to work on those few things, he's welcome to stay. Whoo-hoo! The revolution continues!