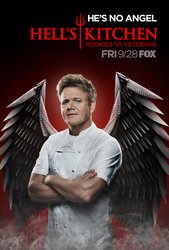 TV Info
---
Episode Premiere
November 24, 2010

Distributor
FOX

Genre
Reality

Show Period
2005 - now

Production Company
Upper Ground Enterprises, A. Smith & Co., Granada


Synopsis
---
With Sabrina out, the remaining five finalists relax in the dorms, where Jillian, Trev, and Nona predict that they'll be the ones to make it to the final three. But only time will tell . . .
The next morning, Chef Ramsay explains their next challenge: Each of them will prepare a signature dish fit for the high-powered lunch crowd at LA Market restaurant. When they arrive at the restaurant, they're shocked to discover that they won't be cooking inside, but will instead be preparing their dishes in food trucks! Customers will try each chef's item and rank them. The chef who ends up with the most votes for best lunch will win the challenge. With just one hour to prepare 80 portions of their signature lunches, the contestants hop on the trucks and get cooking.
An hour later, 80 members of the downtown lunch crowd line up for Nona's chicken salad and bacon sandwich; Jillian's herb chicken with mixed vegetables; Trev's penne pasta with grilled sausage; and Gail's grilled skirt steak salad with mangoes. Unfortunately for Russell, he has a hard time persuading the hungry public that they should try his octopus with aioli.
After the diners vote, Chef Ramsay reads the results. Not surprisingly, a whopping 61 percent of the customers ranked Russell's octopus last. On the other end of the spectrum, 40 percent put Gail's steak salad at the top of their lists, making her the winner. Nona, it turns out, lost by only two percentage points.
As a reward, Gail gets whisked to Beverly Hills for a makeover from famous hairdresser Jose Eber. Then she heads to Hollywood for a style transformation courtesy of stylist to the stars Steven "Cojo" Cojocaru. The rest of the gang returns to "Hell's Kitchen" to clean the exterior of the building and wash the food trucks. During confessional, Nona admits that she is "really over the cleaning," and Trev complains that he's sick of not being appreciated.
While Gail is being pampered at the salon, Jillian and Russell bicker during the cleaning session, and everyone gets frustrated with Trev for zoning out. After Gail returns to the dorms with a glamorous new look, the contestants hit the hay. Tomorrow's dinner service is an especially important one because last week's was such a disaster.
The next day during prep, no one wants to help Gail when she asks her usual questions. Just before the restaurant opens, Chef Ramsay gives the five a pep talk and tells them they must succeed. He then doles out the stations. Nona and Russell will work appetizers, Jillian will be on fish, Gail will head up garnish, and Trev will handle the meat station.
As the tickets start rolling in, the chefs do a good job communicating with one another, but Jillian's the first one to stumble when she overcooks scallops and admits that she's never been on the fish station before. As she continues to make the same mistakes and slows the kitchen, Russell tries to give her a quick tutorial. She finally gets the dish down.
The dining room is full of surprise guests tonight. First, 12 Marines show up to a round of applause, and then Paris Hilton drops in for dinner, which helps take customers' attention off any delayed food.
When it's time to move on to entrees, Jillian continues to falter on fish as Russell and Trev try to assist her. Finally, the first set of entrees is delivered to the dining room, but everyone gets a bit frustrated with Gail for not getting her garnish to the pass fast enough. Next, Chef Ramsay loses it when Trev's platter of beef comes out cold. He announces that he's "done standing here with a bunch of idiots" and walks out the front door with sous chef Scott, leaving the contestants to finish up the dinner service on their own.
After Russell catches Trev delivering overcooked steaks again, he implores him to make new ones. But instead of heeding instructions, Trev tries to refire the old ones, and ends up getting caught. Chef Ramsay finally returns and tells them to look at the table of Marines, who fight back for a living. He gives them an ultimatum: If anyone makes a mistake, he or she will be kicked out of the kitchen. He puts Russell on meat, Trev on apps, Jillian on garnish, and Gail on fish. Gail admits during confessional that she's messed up on fish before and is a little nervous.
The station changes seem to have worked and more entrees make their way out to the dining room, that is until Chef Ramsay discovers one of Gail's salmons is overcooked. As promised, he kicks her out. Next, Jillian sends up raw eggs and becomes the next contestant to get the boot. That means it's up to Trev, Russell, and Nona to get out all of the Marines' dishes and complete the service.
After service over, Chef Ramsay says that tonight was the most frustrating night he's ever had in "Hell's Kitchen" and he was very let down, especially with how long the table of Marines had to wait. He scolds Jillian, Gail, and Trev on their mistakes and asks all of them to come up with two nominees for elimination.
After plenty of debate up in the dorms, the five return downstairs with their decision. Nona explains their first nominee is Gail for being "in her own bubble," while their second choice is Trev for being "an absolute disaster." She also tells Chef Ramsay about his sneaky steak refires. After letting Jillian know that she also disappointed him tonight, Chef Ramsay calls Gail and Trev to the front to convince him that they care.
Gail says that she'd do anything for this, while Trev explains he knows he can do the job. Chef Ramsay decides it's Gail who will go home. He tells her that he honestly thought she'd go a lot further.