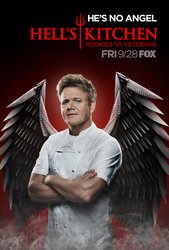 TV Info
---
Episode Premiere
November 17, 2010

Distributor
FOX

Genre
Reality

Show Period
2005 - now

Production Company
Upper Ground Enterprises, A. Smith & Co., Granada


Synopsis
---
The remaining contestants are ecstatic that they've made it to the final six and they all head up to the dorms to celebrate. After everyone goes to bed, Trev stays up trying to figure out a way to take down the women who wanted him out.
The next morning, Chef Ramsay explains to his protégés how an amuse bouche, "a one-bite wonder" served prior to the appetizer course, can really kick-start a dinner. For this morning's challenge, each chef must create an outstanding amuse bouche for some standout Los Angeles chefs: Ludo Lefebvre, owner of LudoBites; Quinn and Karen Hatfield, owners of Hatfield's; Suzanne Tracht owner of Tracht; and Michael Cimarusti owner of Providence.
The chefs have 30 minutes to create not just a tasty amuse bouche, but also one with an impressive presentation. Each guest judge will rate the dish from 1 to 10 for presentation and give it another set of points for taste, which means that each chef can score a maximum of 100 points. Gail starts out on a high note when her sesame chicken spring roll gets a total of 87 points. Sabrina is a little frazzled as she hands over her smoked salmon with glazed carrots on toast to the judges and Chef Lefebvre blasts it for a lazy presentation. Gail ends up with a weak total of 70 points.
Up next is Jillian's grilled pita bread with lemon-dill cream sauce and sautéed vegetables. The chefs find the presentation and flavor boring and give it a dismal 65 point total.
They don't like the look of Nona's take on Southern shrimp and grits either and give her just 34 points for presentation. The dish's flavor doesn't fare much better and Nona ends up with just 67 points, which means Gail hangs on to her lead.
Russell is thrilled when his hamachi crudo with apple-celery broth lands a perfect 50 for presentation and a perfect flavor score of 50, which puts him in the lead with a cool 100 points.
It's going to be tough, but Trev is ready to try to blow the judges away with his frog legs, just to tie Russell. But it becomes clear that he's not going to pull it off after one judge tells him it looks like he put the frog in the blender. Ouch. He ends up with a total of just 62 points, last place.
The win goes to Russell, who gets a tour of LA Market restaurant from its executive chef, Kerry Simon, followed by lunch with Chefs Simon and Ramsay. Russell also gets to choose a fellow contestant to join him for the reward; he picks Gail since she finished second. The remaining chefs are stuck at "Hell's Kitchen," where they must clean their dorms and prep for the evening's dinner service.
After Gail and Russell return from LA Market more ready than ever to fight for the chance to work there, everyone's prepared for that night's dinner service. Since they'll all be serving the dining room as one kitchen, Chef Ramsay says that there will be double the pressure. Adding a bit more excitement to the service, he chooses Nona to be in charge of tableside presentations of Steak Diane in the dining room. And to inspire the chefs a little more, he unveils $250,000 in cash, which will be the annual salary of the winner. With that he encourages them to show him their hunger.
Shortly after the restaurant's doors open, Chef Ramsay is already frustrated. Sabrina has managed to "fry" her risotto, Gail's scallops don't have enough color, and Trev's spaghetti is overcooked. Things get worse for Trev after Scott gives him a serious scolding for yelling at Sabrina. They finally get the first round of appetizers out of the kitchen, but Trev and Sabrina continue to fight and Chef Ramsay is extremely unhappy with the quality of what they're cooking, so he simply moves on to entrees.
After Gail quickly messes up her first fish order, Chef Ramsay declares that there's no teamwork or passion among the contestants and orders everyone to stop what they're doing. He screams at them to wake up and get a grip. The chefs spring back into action and get lots of entrees out, but Sabrina's not helping things. Not only is she slow on salads, but she's also forgotten to dress them! While Gail continues to run into trouble on fish, Russell doesn't do much better on the meat station when he sends up undercooked beef Wellington.
Chef Ramsay, who's reached the end of his rope, threatens to shut down the kitchen, but the chefs say they don't want to give up. He gives them one more chance, and they manage to get into a groove and send lots of entrees to happy customers. But after Russell undercooks some beef, Chef Ramsay loses it and kicks everyone out.
After dinner service, Chef Ramsay says that he's so angry he wants them all to take off their jackets, but for now he'll ask them to finally do something together and choose two nominees for elimination.
Upstairs, Russell and Jillian blame Trev and Sabrina on appetizers for most of the night's problems, while Trev and Sabrina try to point the finger at each other and Gail. Jillian initially votes for Sabrina, but then changes her vote to Gail, which means the decision comes down to Nona. Who will it be?
Downstairs, Sabrina tells Chef Ramsay that the team has chosen her and Trev as nominees. Trev says that he tried his hardest while Sabrina made most of the night's mistakes. Sabrina says that she sorry, but she has never made the same mistake twice. She believes she and Trev should stay but Gail should go.
No dice. Chef Ramsay declares Sabrina will be going home. She's got a big heart and works exceptionally hard, but she has a lot of growing up to do inside and out of the kitchen.