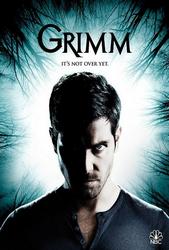 TV Info
---
Episode Premiere
November 02, 2012

Distributor
NBC

Genre
Drama, Fantasy

Show Period
2011 - Now

Production Company
Hazy Mills Productions, Universal Media Studios


Cast and Crew
---
Director
Peter Werner
Screenwriter
Sean Calder
Main Cast
David Giuntoli as Nick Burkhardt
Russell Hornsby as Hank Green
Reggie Lee
Silas Weir Mitchell
Sasha Roiz
Bitsie Tulloch
Bree Turner
Claire Coffee
Kate Burton
Synopsis
---
Nick's dreams are haunted by a missing woman, the subject of his latest case. Hot on the investigative trail the next day, Nick and Hank arrive at the home of a mysterious man, whom Nick catches burning photos of the victim! The suspect, Adrian, morphs into a Schakal and runs out of the cabin. Nick catches him and takes him into the department for questioning. However, with no substantial evidence, Captain Renard informs Nick he has to let Adrian go.
After Adrian's release, Juliette receives a phone call from Captain Renard asking if the two can meet for a private conversation. What is Renard planning? Meanwhile, Nick meets with Monroe to discuss a "confess your sins" serum for Adrian. Nick arrives at Adrian's house, with crossbow and serum in hand, but to his surprise, he finds Adrian dead in the basement, tortured with a mysterious symbol burned into his skin. Hank surprises Nick from behind; he's in disbelief to find Nick above Adrian's dead body. The situation escalates even further when Sgt. Wu and multiple police officers arrive on scene. Sgt. Wu informs Nick and Hank that Adrian called 911 and confessed to everything, including the location of the missing girl.
Thankfully, Donna Reynolds is found at the location. Back at the station, Hank and Nick try to find a meaning behind the mysterious symbol burned throughout Adrian's body. At a press conference, Captain Renard releases the specifics of the case, including the symbol. Watching the press conference, Monroe recognizes the symbol and contacts Nick. Nick and Hank arrive at Monroe's house where Monroe explains what he knows: the symbol represents an ancient branch of Grimms called Endezeichen-Grimms, and the torture of Adrian is similar to an ancient event known as Sterbestunde (Hour of Death). Things are about to get much, much worse.
Captain Renard is aware of the symbol and its meaning. He contacts his spy in Vienna to try to dig up more information. Later, Nick receives a call from Adrian's killer. It seems Monroe's suspicion about the rogue Grimm is correct. The next morning, Nick arrives at the station to find that the torture and killing of Adrian had gone viral. Nick and Hank arrive at Donna's house to see if they can discover any hidden clues about the rogue Grimm. Donna recounts the abduction and reveals that Adrian grabbed her in a van that was being driven by someone else. It's not much of a lead, but Nick and Hank are able to connect a van to the abduction scene by way of a security camera. They identify the driver, who exposes himself as another Schakal, and take him in for questioning.
Meanwhile, Captain Renard meets with Juliette to discuss her past mysterious illness and how her and Nick are coping. Captain Renard offers his support in her recovery. Juliette is suspicious at first, but she confesses that she is still having trouble letting Nick into her life again. Juliette leaves, but she leaves behind her sunglasses. Intentional?
Back at the police station, Nick and Hank interrogate Richard, the driver of the van, about Donna's abduction. He isn't responsive and is convinced Nick was the one who killed Adrian. Forensics interrupts the questioning and reveals that they recovered Donna's purse and wallet from Richard's van. Hank goes to book Richard immediately, but the celebration ends early when he escapes the precinct. They later find him dead and tortured with the same symbol burned into his skin. Nick receives another call from the rogue Grimm, ridiculing him for not doing his job.
Nick returns to the station where a worried Bud has been waiting to talk to him. Bud informs Nick that the Wesen community is scared and thinks Nick is the one killing their friends. Nick reassures him that he is innocent and is going to catch the one who is responsible. Bud is reassured and leaves.
Nick returns to the interrogation room to find a strange discovery: their killer has gone missing! Security footage reveals that the precinct's intern, Ryan, helped Richard escape. Nick has a realization: could Ryan be the rouge Grimm? But he's too late; Ryan has already taken another victim - Bud!
Nick and Hank rush to Ryan's only known residence and find that he has been keeping track of Nick for a long time. They arrive at Bud's workshop just in time to stop Ryan from killing Bud. Caught in the act, a clearly deranged Ryan yells at Nick for being a weak Grimm and morphs into a Lebensauger, a grotesque leach-like Wesen. Ryan is not a Grimm, but is, in fact, a Wesen. Ashamed by his horrible self, he's been masquerading as a Grimm and turning on his own kind.
Captain Renard stops by Juliette's to drop off her sunglasses, which was clearly just an excuse to see her again. Their magnetism becomes irresistible, and the two finally come together for a kiss. Juliette pulls away when she gets a flashback: Renard was the one who kissed her and woke her from a coma! They kiss again, Juliette realizing that Renard is her knight in shining armor.