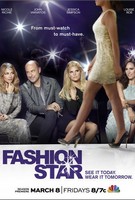 TV Info
---
Episode Premiere
May 08, 2012

Distributor
NBC

Genre
Reality, Fashion

Show Period
2012 - 2013

Production Company
Global Fashion Association, Electus, 5x5 Media


Synopsis
---
This week, double the money is on the line, as the designers work directly with H&M, Macy's and Saks to create two items that any of the stores can buy. It's going to be the toughest challenge yet, because tonight, everything changes. Regardless of whether or not they've made a sale, no designer is safe, and three of them will be going home. Elle struts down the runway to introduce the evening's special event. Nicole is presenting a runway show of her Winter Kate collection for Spring 2012.
This week, the buyers have entered the Design Studio for the first time to give the designers specific feedback. It's time for them to figure out if the designers can incorporate this feedback and demonstrate their ability to design a collection for each of the retailers. Nzimiro decides to turn his full attention to Terron, since he has yet to make a sale to Saks. Terron tells Nzimiro it's all in the details. He goes through each of Nzimiro's deisgns and picks them apart. Nzimiro remarks that whatever he does, he can't please Terron. Later, all three mentors stop by to check in. Saks wants to a safari jacket, but Nzimiro's nervous - what if they don't buy? In the end, Nzimiro decides to take the mentors' advice and design his safari jacket and a trouser. Unfortunately, the work isn't going quite as well as he'd like...
Nicole of H&M meets with Kara. The buyers know Kara can make shirt dresses. Now they want to see her range. Nicole reminds Kara that all the buyers and mentors believe in her, even though she's only been bought by one retailer, Saks. Nicole points out that designs for the masses can still carry Kara's aesthetic, while being sexy and appealing. It's hard for Kara; but she knows she has sexy in her, and she's trying to get as sexy as she can. Keeping H&M and Macy's in mind, she's decided to design a trench coat. She knows a lot of women go straight to a rack looking for something that will cinch their waist or highlight their curves, and she's not really that kind of designer.
After the runway showcases, Elle asks the mentors for their opinions on Kara and Nzimiro's clothes. Both Jessica and Nicole love Nzimiro's safari jacket, and Nicole tells him he deserves to go all the way. John loves both of Kara's designs. This week, Kara has decided to use prints for the first time; John notes that her print dresses would be great for either Saks or Macy's. Anyone can wear Kara's clothes, and they still have her signature! For the first time, Saks does not bid on Kara's dress, but both H&M and Macy's do. Kara has achieved her goal for the week - and sparked a bidding war! The buyers tie at $60,000, so Elle asks Kara to choose. Kara explains that Nicole asked her to design something sexy so she was thinking of H&M when she created her dress and thinking of Caprice when she designed the trench coat.
After Kara decides to sell her dress to H&M, Elle solicits bids on the trench coat. This time, both Saks and Macy's bid $50,000. When Caprice ups her bid, saying it would be wonderful to sell at least one of Kara's designs prior to the finale, Terron backs down. Now Kara will have sold to all three stores. Sadly, there are no offers for Nzimiro's safari jacket. Terron thinks Nzimiro missed it on some of the details - Terron expected to see color under the collar of the safari jacket. There are no offers for Nzimiro's pants either. While she thinks that just a pant doesn't present well alone on a hanger, Caprice assures Nzimiro that he did demonstrate that he has what it takes to design a full collection. And this is very important going into the finale.
Nicole meets with Orly in the Design Studio. The buyers want something modern and stylish that is totally Orly. Nicole loves the level of sophistication that Orly's been bringing to her details. Caprice wants to know - what happened to the twofer? She wants to see how Orly's unique multifunctional approach to design has evolved. Orly really wants to sell to Macy's because she hasn't yet - and because she's sold less than anyone else. Orly tells the mentors she's thinking about designing a cropped jacket with lace sides. Nicole Richie advises Orly that if she's going to make a suit, she better make it her dream suit. She has to make sure the buyers aren't willing to lose her. In the end, Orly decides to create a structured blazer paired with a low-waisted trouser pant, and a glamorous dress. For better or worse, she's just going to go for it!
Caprice explains that Macy's wants a designer who can carry a woman through any occasion. While Luciana has proved she can design for evening - what does her woman wear to work? This is an opportunity to introduce separates. Luciana's nervous because she knows her expertise lies in making dresses. She decides to create two looks: a wrap skirt, and secondly, a pair of shorts with a cropped jacket.
After the runway showcase, Nicole offers her feedback - she loves Luciana's jacket, the skirt not so much. More importantly, both she and Jessica think that Luciana has shown true evolution as a designer. Jessica thinks the fit on Orly's pants is incredible (as does Elle); she loves the lace jacket, and she would wear her black-and-white dress right now. Terron agrees, bidding $60,000 for Orly's dress, confident that it will do very well at Saks. Both Elle and Orly are thrilled when Nicole offers a whopping $100,000 for Orly's blazer and wide-leg trouser, which she says is cut like a dream. Nicole claims she got goose bumps when this ensemble came down the runway - Orly hit it out of the park! Sadly, Luciana didn't, and she makes no sales. Caprice explains that neither of her designs was strong enough as stand-alone items.
Nicole sits down with Nikki in the Design Studio to talk about jersey dresses, which H&M truly loves - 120 designers in Sweden are creating jersey dresses for them every day. She wants to see the Nikki flavor in a structured style. While Nikki wants to show what she's capable of, she's not really a fan of tailoring nor a fan of separates. Still, she knows it's time to go hard or go home. Nikki explains what she's thinking about to the mentors: a high-waisted sailor-front jean. Jessica backs away, recalling a moment with a high-waisted jean that changed her life forever. She would never in a million years try a design because it won't fit many women, and Nicole concurs. Still, Nikki knows she has to take a risk. She'll match her pants with a blouse. Keeping Saks in mind, Nikki decides to make an asymmetrical dress for her second look. She knows this week is her last chance.
Nicole tells Ronnie that H&M doesn't sell a heck of a lot of cocktail dresses, and Ronnie acknowledges the buyers probably want to see a daytime dress from him. Terron agrees; up until this point, Ronnie has designed mostly for evening. Terron offers a valuable hint: floral and animal prints are two trends the buyers believe in for spring. A few days into the week, Ronnie tells John that he may have taken on too much, trying to create two suits and two dresses in too short a span of time. Now he thinks he's going to have to finish his suit without fitting it to his model. John warns him that he has to figure it out - if the suit doesn't fit, he's out.
After the runway showcase, John pays high praise to both of Nikki's designs. She has evolved her brand, and her personality is clearly stamped on her clothing. Jessica calls Ronnie "one classy dude"; he did an amazing job on both his designs, especially the dress, and he's a frontrunner in the competition. No one wants Nikki's pants and blouse, but Saks and Macy's want her dress, both bidding $50,000. Caprice and Terron leave the decision up to Nikki, warning her to choose wisely. Elle reminds Nikki that she needs to make a good business decision. Since Nikki did design the dress for Terron, she wants it to go to Saks. Now her clothes have been bought by all three stores.
Caprice loves Ronnie's suit so much she buys it! And both Saks and H&M want his dress - bidding war! Nicole sticks to her guns and outbids Terron at $110,000. She predicts that this dress will be the biggest order in their modern classic department.
Elle asks all the designers to join her on stage at the end of the show, since every single one of them is up for elimination. Although there are no saves this evening, Elle asks if the mentors have any thoughts to share with the designers. John speaks for all three mentors, explaining how proud he is of all of the designers and how far they've come. John, Jessica and Nicole stand up and applaud the designers. After turning to face the buyers, Ronnie breaks into tears. Pretty soon, Nzimiro, Kara and Orly are crying. It's a tough, tough call, but the final three of Fashion Star's first season are Kara, Nzimiro and Ronnie!