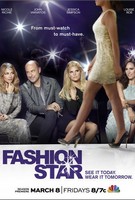 TV Info
---
Episode Premiere
May 01, 2012

Distributor
NBC

Genre
Reality, Fashion

Show Period
2012 - 2013

Production Company
Global Fashion Association, Electus, 5x5 Media


Synopsis
---
There are only two weeks until the finale, and the Design Studio has become a pressure cooker with $6 million in contracts on the line. This week, the designers have been tasked with creating an advertising campaign that captures their brand in a single image. It's a high-risk, high-reward night of Fashion Star! To kick off a show about branding, there's a special event in store - a look at John Varvatos' 2012 spring collection!
The mentors have recruited Editor-in-Chief of Glamour magazine, Cindi Leive, to help with the designers' advertising campaigns. She'll meet with each of them individually, and while she gets started, Kara and Nzimiro get busy. This week, Kara's going to make her version of a tuxedo shirt. To go with it, she'll create the advertising story of a genderless world. She's so happy with the work in the photo studio, tears come to her eyes. Now she'll be able to send the message that she didn't get to send as a teacher: you can be whoever you want to be!
Nicole meets with Nzimiro. When she hears he's considering a sweater design for this week, she tries to talk him out of it, citing Bill Cosby and Mr. Rogers as past sweater role models. She reminds him of the impression he made the first week, when his jackets told a story of effortless dressing up. Can he tell as strong a story with his sweater? Eventually, Nzimiro answers, "Hell to the yes!" but he's clearly nervous going into his very first photo shoot - which is all about travel and looking good while doing it.
This week, all the showcases kick off with the designer's hero branding images. Kara has chosen to portray a feminine version and a more masculine version of her model, with her tuxedo shirt styled accordingly. John bows down to Kara. If he saw her ad in a magazine, he promises he would immediately go online to find out more about who she is and what her collection's about. Nzimiro's photo features a hot, brawny dude in a sweater standing near a pile of suitcases. Nicole loves this image and the way the sweater works on the models - who could be Nzimiro - it's all so him. Jessica claims Nzimiro knocked her panties off. Macy's agrees, offering $100,000 for Nzimiro's cardigan - it's so versatile! H&M puts in a $50,000 bid for Kara's shirt, as does Saks. Bidding war! A confident Terron ultimately buys Kara's Tuxedo Shirt for $80,000.
The next showcase pairs Luciana and Nikki. Since Nikki's first swim collection was featured in Sports Illustrated, she's very familiar with the purpose of a campaign - to communicate the feeling of a collection. She's going to design a '70s-inspired backless maxi dress. Jessica advises her to show glamour, and Nikki concurs - she wants her photo to be aspirational. Later, when she's trying to work with her pattern maker, Ross steps in to offer some support. He can't understand how Nikki's made it this far without really knowing how to pattern or sew. She goes into the photo shoot very nervously because she's having trouble with the fit of her dress on the model. Afterwards, she meets with a photo retoucher to try to salvage the photos she really doesn't like - and decides to crop out most of her dress! The retoucher laughs - this is a show about fashion, and Nikki's using a head shot?
Cindi meets with Luciana to review her work, which is already sold in about 100 stores. Luciana shows John a ton of prints she brought from home. So what's her message? It's all about a young, risk-taking woman who doesn't give a damn, and yes, this woman is Luciana. In her photo shoot, Luciana wants to create a wooded fantasy land, where the model is confident and in charge, the hunter as opposed to the hunted.
After the runway showcase, Nicole tells Nikki that choosing a headshot of a model is the worst thing she could have done - is it a joke? Nikki admits her photo shoot was a disaster, and her final branding image was all she could do with what she had. Jessica points out that using a well-known celebrity in her photo might have worked. Nevertheless, Nikki's dress is great. John likes Luciana's images and her elegant dresses. Sadly, no one's interested in buying Nikki's dresses. Terron explains that when advertising goes unnoticed, everything else is immaterial. Caprice is frustrated that Nikki is creating primarily maxi dresses and advises her to show more range. Saks puts $50,000 down on Luciana's dress, complimenting both her advertising campaign and her design.
In the Design Studio, Nicole stresses that Orly needs to express her brand with one image, one photo. Orly tells Cindi that she wants to create a sort of motorcycle vest dress to represent her brand. She'd like to feature an It Girl in her photo, capturing her in an intimate moment and styling the photo like a polaroid. She's going to tell the story of this It Girl getting caught on the street by paparazzi - but this It Girl won't run away from the camera. Ronnie wants to represent himself chasing his dream to become an established designer. Most importantly, he wants to make his family proud. Ross is making a vintage-inspired hunting jacket, and he tells Jessica that he's inspired by her. When she suggests he use his olive jacket, he decides to use the navy and cream...
After the showcase, Elle asks Ross if she's detecting a little Jessica influence in the design of his hunting jacket. He admits there may be a little Jessica in there, since they're both South Texas-influenced. Jessica claims Texans love earthy tones and chewing on hay, but she wishes he'd used a different colored jacket in his photograph. Furthermore, he might have fared better if he had his wife along as stylist... Nicole loves Ronnie's ad, and thinks it presents an interesting way of color blocking. John thinks Ronnie's dress is quite similar to other dresses they've seen from him, but he still likes it. John thinks Orly's campaign is cute; she achieved exactly what she set out to do. As for her vest/dresses, they're unexpected, and the print works best, while the two solids fall a little short.
None of the buyers are interested in Ross' hunting jacket, and he wants to know why. With brutal honesty, Terron says Ross' campaign photo looked like something from "Out of Africa." Caprice thinks the jackets look dated; Ross' classic-updated-to-look-modern thing isn't working. While Ross appreciates the buyers' honesty, this jacket is about who he is as a designer. Nicole of H&M bids $50,000 for Ronnie's dress - she loves what he's been doing with details on the back of his dresses. No one bids on Orly's clothing, and Terron comments that he can't read the signature on Orly's ad - something the other designers told her when she was creating it. Orly explains that she wanted it to look like she signed a polaroid, but Terron insists that she missed the point of the branding exercise. Elle decides she has a new name for Terron: Terron the Interrogator. Backstage, Orly still isn't quite sure what happened.
Elle calls the three designers that didn't make a sale to the stage: Nikki, Orly and Ross. John tells them the mentors believe in all three of the designers, and they'd like to see all of them stay. But the mentors are at a stalemate and have decided to turn the entire decision over to the buyers without exercising their save. What? Shocking! Caprice tells Ross that the buyers thought they had a breakthrough with him, moving towards modernized classics. But when he had the opportunity to create a branding image, he went back to strictly classic, which made them feel as if he lost his momentum. Now they're not sure if he can design a salable line for each of them. Terron gives Nikki a similar story, adding that the buyers were very disappointed in her branding image. Nicole of H&M tells Orly that while they love her passion, they think she took a step backwards this week. Finally, Nicole tells Ross that he's going home, bringing tears to Jessica's eyes.