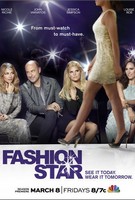 TV Info
---
Episode Premiere
April 24, 2012

Distributor
NBC

Genre
Reality, Fashion

Show Period
2012 - 2013

Production Company
Global Fashion Association, Electus, 5x5 Media


Synopsis
---
Tonight, the mentors will work one-on-one with the designers, pushing them to expand their reach, in hopes of showing them what it's like to work in the real world. Nicole suggests Kara design a full suit... which means she'll have to create three tailored suits in a week! Since color is really a challenge for Kara, Nicole suggest going off-white. John wants Ross to create a chic, elegant dress - not too uptight, but a little younger and more flirty than usual. Immediately, Ross is wary; he's going to make sure his dress has his stamp on it. Instead of holding John's hand in the fabric store, Ross charges ahead, effectively ignoring everything John has to say. Ross decides that John doesn't understand his vision, so much so that John walks off, leaving Ross to his own devices.
Jessica admits that although she's had a crush on Ross the whole time, she's switching camps because of Kara's suit - which looks so good on the models, that Jessica's checking them out. The buyers have no offers for Ross. Nicole of H&M explains that the fabric he used didn't come across at the high-quality level that she would have liked to see. The neckline and waistband are also a problem. When neither Caprice nor Nicole bid on Kara's suit, John interrupts, telling them it's so new, they have to take another look - they're crazy for not buying! Elle appeals to Terron - can he not see how much the audience loves Kara's suits? Terron smiles slyly, then puts up a $100,000 bid, claiming he wanted to add some suspense to the show. He loves the suits and assures Kara that Saks really wants them. Now Kara is safe, and Ross is in danger of elimination.
Earlier in the week, John took some of the designers on a trip to visit his flagship store to relate some of his experience as a designer and businessman. It's a fight every day because the bar is always being raised higher, and even though you have a great season, you always have to outdo yourself next season. John walks them around the store, explaining what went into making his clothes. Meanwhile, Nicole brings Ronnie, Kara and Nikki to one of her favorite vintage stores for inspiration. Jessica teaches Luciana and Sarah about the business of fashion, explaining how she sells clothing while remaining true to herself.
John pays a visit to fellow Detroiter Nzimiro to give him his challenge for the week: a tailored men's suit. Nzimiro's clothes are typically sporty, and while John doesn't want him to go all Wall Street, he cautions Nzimiro against tchotchke-ing up a suit too much - that would be the kiss of death. Jessica asks Sarah to create an elegant dress, in hopes of broadening her horizons and selling to Macy's and Saks. She assures Sarah that if she makes the right dress, it will sell to Macy's because that's Jessica's store. Nevertheless, Sarah's not confident with her design. Kara remarks that Sarah's always second guessing herself, and she usually winds up knocking it out of the park.
During the runway show, John leans over to Jessica to comment that Sarah's dresses are terrible. Afterwards, Nzimiro tells Elle that John was an amazing mentor. John's proud of Nzimiro's work, even if he would do a little tweaking on the collar - Nzimiro has shown he can create something elegant in a very short span of time. Jessica admits she's not in love with Sarah's dress. She wishes it was either flowier or a little more structured. Sarah admits she was lost on this design. Nicole tells her that since they're getting down to the wire, she needs to see Sarah representing her work with confidence and pride. The buyers show their solidarity with Nicole Richie by offering no bids, and Nicole of H&M comments that perhaps Sarah lost the directive to create an elegant look. There are no bids for Nzimiro either; Caprice allows that while the fit of his suit is right on trend, some of the details take away from the overall look.
Orly is thrilled to work with John, who gives her tough love, but real, usable criticism. John reminds Orly that all the mentors love her and think she's quite talented, but maybe it's time to retire the convertible clothing routine. Orly realizes the buyers are looking for her to continue innovating, just in a more subtle way, so she's thinking about a blazer-inspired dress. John likes the idea of making something between soft and tough, which is right up Orly's alley. Meanwhile, Nicole meets with Ronnie. She feels Ronnie will eventually become an eveningwear designer, because it's all about his gowns, and she's going to work closely with him this week to make something stunning. It's time to go all out!
Orly and Ronnie's showcase is given it's soundtrack by Taiko drummers! Clearly, the audience loves both of the designers' clothing. John loves the way Orly mixed zippers with soft silks, making the zippers look more like jewelry. Nicole tells Ronnie that his evening gowns are exactly what she's been waiting for, especially the ivory, even though he needs to work on fit through the midsection. Jessica claims she wouldn't mind having Ronnie on board to design her bridesmaids' dresses. Now it's time to face the buyers. Orly's thrilled with two offers, one for $50,000 from Saks and another for $60,000 from H&M. Terron tips off a bidding war, and in the end, Nicole and Terron both decide to stick at $70,000. Now Orly has to choose which retailer will get her dress. Citing the goal of the show - to design for all three retailers - Orly opts to go with H&M, since she has already sold to Saks.
Neither Saks nor H&M bid on Ronnie's dress, but Macy's offers $50,000. Caprice explains that Macy's likes to dress their customers for all occasions, and it's great to find someone who has a good eye for the eveningwear category.