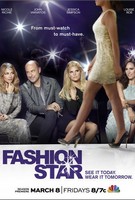 TV Info
---
Episode Premiere
April 17, 2012

Distributor
NBC

Genre
Reality, Fashion

Show Period
2012 - 2013

Production Company
Global Fashion Association, Electus, 5x5 Media


Synopsis
---
This week, the designers have been asked to move outside their comfort zones, to design something they've never tried. The buyers want to see some versatility, and it's a high-risk, high-reward night! Luciana has decided to try making a jacket because she's never made one before. Mentor Jessica points out that the public perceives Luciana's style as sexy - anything but covered up. Luciana confesses there's a lot America doesn't know about her. For instance, although she started off as a terrible bowler when she was young, her competitive spirit inspired her to take bowling lessons, and she became a member of the Argentinean National Bowling Team. The experience taught her that if she wanted something, all she had to do was work hard.
Nicole visits Ross in the Design Studio, to challenge him to step outside of his box. Ross has been considering designing menswear, but that's not good enough for Nicole. Ross needs to make something he knows nothing about. She'd rather see him make stripper clothes than make another vest. A conservative guy, Ross does some research and decides to make vintage-inspired lingerie. Orly and Nzimiro think his pieces are derivative, but Ross doesn't care because he knows his designs are original.
A designer of lingerie herself, Elle is surprised by Ross' designs, demanding to know whether he's trying to compete with her. After the runway show, Jessica comments that Ross must be missing his wife; she can imagine this lingerie is something he wants to see when the lights go out. Elle mentions that Nicole doesn't wear a bra, but asks for her comments anyway. Nicole is thrilled with Ross' work, and he returns the compliment. He wouldn't have designed the clothes without her inspiration. The mentors also love Luciana's jackets and are confident she'll get a buy tonight. H&M bids $50,000 for Ross' lingerie. Nicole is thrilled with the retro naughty look. Luciana is over the moon with two offers of $50,000 from Macy's and Saks. A bidding war erupts, and in the end, Caprice wins out with a $100,000 bid. Caprice tells Luciana that she has the potential to make it to the end of the show.
This week, Sarah decides to design a color-blocked cutout bikini - even though the buyers didn't like Nikki's impeccably designed retro two-piece bathing suit. John advises her to make sure she's reaching a broad audience while making something really special. Even though he's not comfortable designing for women - he thinks their bodies are weird - Nzimiro is designing a dress. Nicole asks him to design for his dream woman. When Nzimiro claims that Nicole is his dream woman, she advises him to start researching. Since her specialty is floaty boho-style dresses, Nikki remarks that she doesn't know a woman under 55 who would be seen dead in Nzimiro's dress.
Elle loves Sarah's two-piece bathing suits, but Jessica thinks they look a little plain - brighter colors might have helped. When Elle asks Nzimiro about his dress, he explains that he knows how he wants his woman to look. While Nicole isn't disappointed with the dress, she thinks he could have done a lot better, especially since she thinks he has the chops to win the competition. Sarah receives no offers from the buyers. While Nicole thinks Sarah's bathing suit looked great on the runway, it wasn't good enough for H&M. However, Nicole loves Nzimiro's dress - and she buys it for $50,000! She complements Nzimiro up and down, on commerciality, color palette, fit - on and on. Nzimiro is safe from elimination for the week, but Sarah isn't. She knows it's time to step up her game.
This week, Ronnie decides to design scuba-inspired bathing suits, with a zipper running from top to bottom through a peekaboo mesh panel. Jessica warns that if she were wearing such a suit and took a deep breath, chances are the whole thing would unzip. Ronnie decides to hope for the best and hopes that the models don't have to breathe too much on the runway. Barbara decides to go for a boho look, even though she just learned what the word bohemian means a few hours ago. Researching online, she discovers that Nicole is an icon of bohemian style. Nicole encourages Barbara to let her print speak for itself while toning down other aspects of her design so the dresses don't appear overworked. Meanwhile, Nikki struggles to create a tailored, woven men's pant, and she's very fearful about getting the fit right. This is the first time she's made anything for men or anything tailored and fitted. Luckily, Ross offers to be her fit model...
Jessica loves Ronnie's bathing suit, which she thinks narrowly escaped being just like Borat's. John's not so impressed with Nikki's pants and shorts, but Nicole points out that men love them, even if she doesn't think they're the greatest. Nicole comments that boho style is really new for Barbara, and she recognizes all the hard work that went into her dresses. John thinks Barbara totally missed the mark on boho, and he's not thrilled with her fabric choice. The buyers agree; no offers for Barbara, who tries to solicit sympathy by mentioning her breast cancer and club feet. Nicole of H&M thinks her dresses are overworked. Elle is surprised when there are no offers for Nikki. Up last in this showcase, Ronnie is nervous, but Macy's bids $50,000 for his sexy one-piece bathing suit. Ronnie's safe for the week!
Having never created anything structured, Orly wants to make a tailored, convertible jacket. Jessica is concerned that she's not really stepping outside of the box, still clinging to her twofer concept. Kara's a little worried too; the zip-off bottom to the jacket is a lot like the zip-off skirt Orly designed in the first week. For her part, Kara is beyond nervous, after deciding to go sexy this week. Mentor John is all for it. No one's expecting Kara to create a long, soft sexy dress. Kara's feeling so overwhelmed that she calls her mom for reassurance.
Kara's close to tears after her showcase and not expecting John to offer a round of applause. Jessica thinks Orly's jacket is still a little bit safe, but cute. Orly's feeling very nervous about facing the buyers, and she reads their faces correctly, since there are no offers for her. Terrence tells Orly that this week's design makes for one too many twofers. The jacket was gimmicky; Orly didn't leave her comfort zone, and he's sorry. But when it comes to Kara, Terron coughs up $100,000 to carry her dress at Saks. Quoting Sally Field's Oscar-acceptance speech, Terron assures Kara that Saks really, really likes her.
This week, Sarah, Barabara, Nikki and Orly are up for elimination. The buyers are primarily concerned with whether or not the four women are capable of designing a capsule collection for each of them. Elle calls all four women to the stage for potential elimination. Since all three stores have bought Nikki's clothes, the mentors decide she's this week's save. Caprice reminds Sarah that she's only sold to one retailer, which raises serious concerns as to whether she'll be capable of designing a capsule collection for all three. Terron commends Barbara's dynamic energy, but he hasn't seen the kind of evolution he's been hoping for. Nicole tells Orly that the last two week's designs just haven't been good enough. Caprice delivers the bad news: Barbara is going home. Barbara knows she's leaving the show a winner. She's looking forward to getting back to her own space where she's the boss, and no one's telling her what to do.