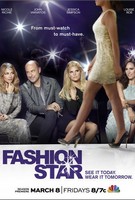 TV Info
---
Episode Premiere
April 10, 2012

Distributor
NBC

Genre
Reality, Fashion

Show Period
2012 - 2013

Production Company
Global Fashion Association, Electus, 5x5 Media


Synopsis
---
Nikki fares much differently. Saks offers $50,000 and H&M puts down $60,000. When Terron ups his bid to $70,000, Nicole counters with $80,000. In the end, Terron lets it go to H&M. Nicole explains that she would stop on the street and run inside the store to buy Nikki's dress. Luciana and Ronnie are the next two designers to show their stuff. After failing to sell for the first three weeks, they've formed a close friendship and are thrilled for the chance to work together. Since Luciana sold to Saks last week, and Ronnie earned a save from the mentors, he knows he needs to bring it this week. It's do or die. After their runway show, which is themed like a rooftop hotel, Terron bids $100,000 for Luciana's dress. And then a bidding war between H&M and Macy's erupts over Ronnie's dresses! In the end, Caprice takes it at $110,000, and everyone's happy that Ronnie will continue on the show.
Backstage before the show, Orly's a wreck, fearing that she may have squandered her opportunity. Nevertheless, Elle thinks their showcase went well, and Sarah and Ross insist it was easy to work together and their style sensibilities matched well. But Nicole says that if she was on "Gossip Girl" she would say, "WTF?" when it comes to Orly's shorts - the fit was terrible; the model had a wedgina - why did this happen? When Orly explains her strategy was to show a basic collection item, Nicole reminds her that it's too late in the game for basics. John likes Sarah's jacket; it's not a superstar design for him, and it didn't raise the bar for her. Jessica is in love with Ross' vest, and she asks him to deliver it to her on a platter.
Orly, Ross and Sarah are up next, and none of them are familiar with building a window display. Luckily, Jessica has had her own window at Macy's, and she's on hand to advise. The three designers all love "Gossip Girl" and have decided to use it as their inspiration. Sarah's making three different versions of a reversible blazer; Ross is designing a young, sexy vest which he thinks will work for all markets. Ross proceeds to the stage to direct the models in the living window display, while Orly struggles to create something different than she usually would - a lace dress. She's worried that she's not going to pull it together in time, so Nicole advises her to go with what works. At the last minute, Orly decides to show three variations on a basic pair of shorts.
While Barbara finds Nikki difficult to work with, Nikki hates the photo shoot idea Barbara proposes for their window. When Nicole checks in, Barbara admits she'd like to bash Nikki in the head, even though she doesn't know how to fight. Nicole realizes the women are polar opposites and worries for their chance at success. She likes Barbara's photo shoot idea, and helps the designers reach a happy medium. It all pays off in the end, as everyone in the house loves the presentation of Barbara's High-Waist Dresses and Nikki's Vintage-Inspired Maxis. Nikki earns rave reviews, but John's not too happy that Barbara used pinstriped fabric for the skirt section of all three of her dresses. The buyers seem to agree, with no bids for Barbara. When Terron remarks that her dark pinstripe fabric choice is odd for summer, Barbara advises him to buy her clothes now while they're cheap, before she becomes a design superstar.
This week the buyers have asked the designers to work in groups to present their clothes in living store windows. The goal is to pull people from the street into the stores - while creating clothes the buyers can't live without. To kick off the show, Elle points out that the buyers have already spent over $1.5 million on clothes. The first showcase of the evening includes Barbara and Nikki. At the beginning of the week, Nicole explains that creating a window display isn't about subtlety - there needs to be a story. Barbara has decided to create menswear-inspired dresses using pinstriped fabric. Nikki hates the idea of telling a story with their window; she's created a 1930s glamour-inspired gown. In her mind, her dress speaks for itself, and her style is totally different from Barbara's. Barbara reminds Nikki that this is a competition, and they have to deal with the challenge they've been presented.
Going into the runway show, Kara's not convinced that their window's travel theme will be cohesive as a result of Edmond's last-minute maneuver. After the show, Elle turns to John for comment on Edmond's surprising switch to menswear for the week. John thinks his black-and-white shirt is fun, and his silhouette is okay; but he really wanted to see what Edmond had in him for women, just as he was starting to get on track. And Edmond failed to provide a blow-'em-away piece for men. Jessica's surprised that Kara was the only one who used color in the entire window, definitely outside her comfort zone. Nicole embarrasses Nzimiro, calling him by her nickname for him "Zemimi." She loves his jacket, but John thinks the jacket needs to pop more for a window.
No one has an offer for a very disappointed Orly. Terron admits to being very confused by her shorts. Nearly in tears, Orly apologizes. Sarah lucks out with an offer from her standby H&M. Nicole loves the jacket, calling it a new cardigan - BUT - she reminds Sarah that to win the competition, she needs to be able to design a collection for each of the stores. Caprice bids $50,000 for Ross' vest. She's a huge believer in Ross, and she thinks he's just hitting his stride. Edmond, Kara and Nzimiro will work together on the final window display, and they're getting along so well that Kara has nicknamed the men her two "guy smileys." Nzimiro is looking to redeem himself after last week, and Edmond wants to honor the mentors who saved him. Edmond's planning to make a blazer out of black gabardine. Nicole warns him to stay away from hooker and club rat fabrics... so Edmond decides to switch to a man's shirt.
Now Orly and Edmond are left to face the judges. Caprice tells Orly that losing track of vision is the kiss of death for a designer, and it may have just lost her the competition at this point. Terron tells Edmond that switching horses mid-stride wasn't the best way to go. Elle turns to Nicole for the final decision - and it's Edmond. Orly cries, grateful to continue on the show for one more week. Edmond promises he'll be back.
The buyers shoot down Edmond's shirt, confused by his shift to menswear. When all three fail to bid on Nzimiro's jacket, he wonders if they've gone broke. Caprice assures Nzimiro this isn't the case. She understands that he does phenomenal outerwear; they're just concerned about his ability to design an entire collection. The big surprise of the night - no one has a bid for Kara. Now all three designers are up for elimination, along with Barbara and Orly. Elle calls the buyers' bottom three designers to the stage: Barbara, Edmond and Orly. When called upon to make a decision on whom to save, John admits to having butterflies in his stomach. He feels like the world needs a little more crazy; thus the mentors have chosen to save Barbara, who's not sure if she's been complimented or not.