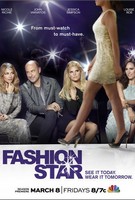 TV Info
---
Episode Premiere
April 03, 2012

Distributor
NBC

Genre
Reality, Fashion

Show Period
2012 - 2013

Production Company
Global Fashion Association, Electus, 5x5 Media


Synopsis
---
This week, the buyers have asked the designers to make two pieces for two completely different markets. The first piece must be a high-end look, while the second design will be a low-end version of the first with broad appeal. Earlier in the week, John visited Sarah in the Design Studio. She's hoping to create a structured dress, so John talks about how he creates his different lines, what's high and what's low. Sarah's designer piece has to be a real stand out. In this challenge, she'll have to prove she has the breadth to span the entire spectrum of the market. As it turns out, most of the designers don't see their work as high-end, except of course for Ross. Jessica encourages Orly to focus on what makes a piece look expensive - so she swaps her two styles. Again, both of her pant designs are adjustable. Sarah switches up her looks as well, but that puts her at risk for not finishing on time. It's not long before Sarah's in tears. Orly advises her to switch into what-can-I-get-away-with mode.
Orly and Sarah present the first runway showcase. First up, Orly's Trouser Pant in both high- and low-end looks, followed by Sarah's Structured Dress. Mentor Jessica says that while she likes Orly's high-waisted pants, they can get a girl in trouble. Nevertheless, she likes the convertible waistband on the high-end trousers; she's just not so sure about the low-end. Nicole likes Sarah's sassy white dress, which would look great on someone like herself, but the red dress was just nice. John adds that Sarah's white dress doesn't really read high-end. At a point when it's time to raise the game, Sarah missed the mark. Sadly, there are no offers for Orly from the buyers. Terron remarks that Orly's two looks had nothing in common. Once again, H&M buys Sarah. Nicole offers $60,000 for Sarah's dress - she loves both dresses, and furthermore, she believes in Sarah.
Back in the Design Studio, Nikki is nervous, because she has never designed a high-end garment. Luckily, Nicole is on hand to help restore her shaken confidence, advising her to go with what she knows. Across the studio, Jessica tells Edmond that she doesn't see a differentiation between his high and low looks. Even though the high-end look is draped in gold chains, which seem a little much. Only Nzimiro is confident in his designs for the week. But when they hit the runway, all bets are off. Neither Nzimiro nor Edmond make a sale, but Saks and Macy's have a bidding war for Nikki's dress. H&M wins at $70,000. Nicole tells Nikki that she hit the retro '70s glamour nail on the head with her high-end look. Nikki is thrilled; she's trying to expand her horizons, and this week, going above and beyond her normal realm paid off.
John checks in with Barbara during her design phase. Barbara thoroughly understands the challenge. She sees herself as a high-end designer, and her clothing has kept her in business for 25 years. Still, it's been difficult on the show, since no one has bought her clothing thus far. Barbara decides to create a vest with a deep inset pleat in the front for her high-end look. John clarifies - it's really halfway between a cargo dress and a vest. The coordinating low-end piece has a similar look, but it's made from cotton - Barbara thinks ready-to-wear should eat this up. The surprise? The hooded vest has no back! Meanwhile, Lisa has decided to design a coat with a $50 per yard luxe fabric for high-end, and a sunshiny yellow fabric for low. This week, her goal is to sell her high-end piece to Saks, which is the last place she shopped with her mom before she passed away. John wonders if the yellow coat is too reminiscent of Paddington Bear...? Lisa's feeling confident and, because she loves the yellow so much, decides to keep doing her thing.
This week, Kara is creating two jackets. The high-end piece is a long waistcoat with tails, and the low-end jacket is shorter, hitting at the hip. After Barbara, Kara and Lisa's runway showcase, Elle turns to the mentors. John thinks Lisa's jackets are "nice," even if the high-end one didn't really read high. Nicole can't tell the difference between what's supposed to be high or low, and she thinks that's a great sign. Both Jessica and Nicole love the yellow coat. Jessica tells Barbara that it's one of her biggest nights, since the span between her looks demonstrates her range as a designer. Elle loves Kara's design, as does John, who tells her she's "on a friggin' roll - home run, grand slam!" Both Macy's and Saks agree - and the bidding war begins. In the end, Terron takes Kara's tailcoat with a $70,000 bid. He complements Kara highly, telling her she's a fashion leader. Elle reminds her that she's sold $230,000 worth of clothing thus far.
Finally this week, Barbara receives an offer for her designs - $50,000 from Caprice of Macy's! Caprice is impressed with Barbara's evolution - she loved both dresses, so she's buying both. Sadly, there are no buys for Lisa. Terron explains that while Saks loves a spring coat, he was a little disappointed, especially in the yellow. And he was surprised to hear that both Jessica and Nicole would wear yellow! Nicole pipes up right away: "It's Mia Farrow; it's 'Rosemary's Baby' - it's cute!"
Ross starts out the week confident that his skirts will get a buy. In the Design Studio, he tells Nicole about his looks: his high-end piece will be a chevron-pleated full circle skirt with 15 yards of tulle underneath. It's big, which worries Nicole - the whole thing could be a little Scarlett O'Hara, very Southern. Ross admits he is Southern, but he's going full steam ahead; and he's loving his looks so much, he's annoying the other designers. Meanwhile, Luciana is struggling. She's making a high-end gown for her high-end piece, but she's arguing with her patternmaker William, who didn't do as she asked, so her gown no longer hits the floor. Luciana tells William he's making her look bad in front of the other designers and not letting her do what she wants to do. He claims he's the reason all her clothing got made in the first place. In the end, Luciana grabs her purse and walks out.
This week, Ronnie's low-end look is a little black dress with a teal insert, and his high-end piece is a teal evening dress with a high slit. He really wants to see some love from the buyers because he hasn't so far. After the runway showcase, John speaks first to Luciana's designs. He's not fond of her fabric choice for the high-end look, but the low-end look was chic with good detail. Nicole reminds Luciana that right now, she's competing against designers who have really established their distinctive looks, and she still hasn't. Nicole really likes Ross' low-end dress, thinking it would be perfect for someone like Katy Perry. Although she's not Katy Perry, Jessica could see wearing Ross' dress to a garden party. She thinks Ross wants his woman to look the way he wants her to look, and he achieves that mark every week.
John has been a big supporter of Ronnie since day one, but he just doesn't see it now - he's disappointed. Jessica disagrees; she loves the beautiful fit on Ronnie's long dress. Honestly, she really likes both - is she crazy? The buyers will be the judges of that, and once again, they have no offers for Ronnie. While Caprice allows that his dresses were beautiful, she thinks it's time for him to work with abandon should he make it to next week. Time to take a risk! There are no offers for Ross either. Terron remarks that Ross' design is dated - the dresses look like something Olivia Newton John might have worn in "Grease." Ross admits to cribbing off Dior's Revolution from the '40s while trying to incorporate contemporary trends. Finally, Luciana gets her first bid. Macy's offers $50,000, and Saks tops it with $60,000. Caprice tells Luciana that she's starting to figure out a way to be sexy, wearable and classy. Caprice isn't going to fight Terron for the dress, but she's glad that Luciana will be on the show for another week.
Now it's time to decide whom to save and whom to send home. Making these decisions is getting tougher and tougher every week - well, for everyone except Terron. Finally, Elle calls the bottom three designers to the stage: Edmond, Lisa and Ronnie. Nicole explains how difficult their decision was this week - and they're going to hone in on the person they're about to save next week. Ronnie better get ready to bring it because they're going to be breathing down his neck. Elle turns Edmond and Lisa to face the buyers. Nicole tells Lisa the same thing she's been telling her since the beginning of the competition: the buyers need to see more innovation. Caprice is sorry to see Edmond standing before her, but they've been waiting for him to evolve and were disappointed yet again. In the end, Terron hands down the final decision - Lisa is going home.