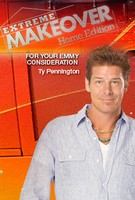 TV Info
---
Episode Premiere
May 08, 2011

Distributor
ABC

Genre
Reality

Show Period
2004 - Now

Production Company
Endemol Ent., Lock and Key Prod., ABC, Greengrass


Cast and Crew
---
Main Cast
Ty Pennington
Paul DiMeo
Paige Hemmis
Michael Moloney
Ed Sanders
Tracy Hutson
Tanya McQueen
Eduardo Xol
John Littlefield
Rib Hillis
Synopsis
---
It's sure to be a happy Mother's Day for one special lady in the Sunshine State. Yes, Ty and the team are headed for Florida to help the Prewitt-Brewer family. Carrie Prewitt never had kids of her own, but she works with them every day as a beloved volleyball coach.
One of Coach Carrie's players, Ashley, told many tales of hardship she endured along with her sisters, Taylor and Gina. When the parents of these three girls passed away, Coach Pruitt welcomed all three of them into her home and into her life. Now they need a house to accommodate this brand new family. Well, they're about to get a very special Mother's Day gift.
Ty and the team wrangle up the three sisters out of the library to surprise Carrie in the school gym. Cheers erupt from the players and tears flow from Coach Carrie and her girls. Michael, Jillian and Tracy learn the girls are all fans of volleyball champ Misty May. And Ty learns the house isn't stable enough to survive a hurricane. That's a real concern when you live in Florida. Something tells us stability is on the way.
Ricky Strickland of Ark Remodeling and Construction and Randy Long from J.A. Long Construction lead the team of builders who are here to help as the family heads off to St. Thomas in the U.S. Virgin Islands. As for the build, Michael and Jillian's moms pop in to surprise their kids. As far as the demolition, it may the first time a house has ever come down with volleyballs!
Michael introduces Coach Carrie's players to Olympic volleyball champ Misty May, who suggests a beach volleyball court be set up at the new home. Carrie gets a video message from some of her former players to let her know the impact she's had. They also let her know that one player will receive a Carrie Prewitt scholarship annually for the next 30 years. The University of North Florida is giving Carrie's girls full scholarships, too. The surprises continue, as Carrie's mom arrives to join in the vacation fun. The family returns and it's time to MOVE THAT BUS!
Here's a breakdown of the new place:

- The exterior is a glorious, sprawling complex ready for love with a mortgage that's paid in full.

- The interior has beautiful, long hardwood floors. There's a framed picture of the family in the built-in dining room.- The state-of-the art kitchen has a nice, wide counter.

- The living room is huge and complete with a Cisco Umi system that can connect Carrie with her brother Rick on their new big screen TV.

- The outside patio area looks like something you'd see at a tropical resort. The enormous spa that's been built adds to this oasis of relaxation.

- Gina's room has a shell for a bed and the plasma screen TVs built into floor loop videos of the Great Barrier Reef.- Taylor's Tike Hut room is another tropical dream where all of her walls turn form day to night.

- Ashley loves the hanging bed in her beautiful new bedroom.

- Carrie's room feels like a retreat where she can end the day in a calm, peaceful way. The new bed and tub are gorgeous, but it's a small little item that seems to make the biggest impression.

- Ty created a keepsake box with custom-fitted slots to fit the three charms that represent Carrie's girls.

- The backyard has a huge beach volleyball court that'll be surely put to good use.

- Misty May drives onto the court to present the family with their brand new 2011 Ford Explorer.
All the friends surrounding the family take part in a celebratory volleyball game. It's a very happy Mother's Day for everyone. Welcome home, Prewitt-Brewer family. Welcome home.