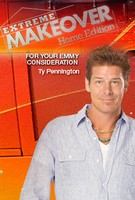 TV Info
---
Episode Premiere
November 07, 2010

Distributor
ABC

Genre
Reality

Show Period
2004 - Now

Production Company
Endemol Ent., Lock and Key Prod., ABC, Greengrass


Cast and Crew
---
Main Cast
Ty Pennington
Paul DiMeo
Paige Hemmis
Michael Moloney
Ed Sanders
Tracy Hutson
Tanya McQueen
Eduardo Xol
John Littlefield
Rib Hillis
Synopsis
---
The Extreme Team is off to Iowa to meet the Marshall-Spreier family and their dog, Betsy.
We mention Betsy because this particular pooch is a bit of a hero. There was a fire in the small home of single mom/breast cancer survivor Jane Marshall and her nine kids. Betsy's barking let the family know their house was on fire. The people were saved, but the home was destroyed. The family has been living like refugees in their own backyard ever since. Well, all that is about to change!
Ty and the team are off to a local firehouse where Betsy is being honored for her heroics. They crash the bash along with all the builders for the week. Music is huge for this family, as is the positive attitude that comes from mom. The entire family is off to Florida, Betsy included, as the team gets to work.
Paul, Ed and Jillian will tackle the kids' rooms. Ty will do something special for mom and Betsy. Ty knows the family loves music and they also love their pet. So dozens of canines from all over Iowa are invited over for a Doggie Demolition set to classical music. Yes, this house is truly going to the dogs!
Ty wants the team to create nine chairs using old unplayable musical instruments. In other words, he wants them to make some musical chairs. We're thinking Paul may be getting a little too ambitious with his desire to create a chair made entirely out of kazoos!
The family returns from their Florida vacation only to be hit with a wave of love from everyone who helped with the build. Time to MOVE THAT BUS!
Here's the breakdown:

- The new two-story home is gorgeous with a beautiful front porch. But before the family can even step through the front door, the president of Idaho State University presents full scholarships to all the kids.

- The inside is sprawling and the piano keys the family sees on a few of those musical chairs has them all singing a happy tune. No sign of the kazoo chair though. Sigh.

- The kitchen is huge. Behind one of the doors is enough dog food to feed Betsy for five years thanks to a donation from Beneful.

- There are bunk beds in the room for the twins along with outdoor wall art and a brand new musical keyboard.

- Two of the other girls have a colorful new room with hardwood floors and glamorous designs on the walls.

- The boys' bedroom features a bridge bed along with a rock design. A door leads to an outdoor patio for spur of the moment campouts.

- Paul creates a bedroom for Noah complete with a spinning rock-climbing wall. Another wall opens up to reveal a man cave for all his supplies.

- There's a brand new cello waiting for 17-year-old Sophie in her new space which looks like it's her own apartment.

- Jane's room is filled with windows from her old house. The kids wrote a bunch of love notes on musical paper. Ty put these notes into the frames to serve as inspiration for Jane for years to come.

- There's a small pullout bed that appears from under Jane's big bed. It's the perfect place for Betsy to sleep.

- The new laundry room is beautiful and should replace any bad memories of the old one, as that's where the devastating fire got its start.

- The Marshall-Spreier Family Music Room is filled with guitars, violins, mandolins and a piano. Ty says it fits with the theme of creating harmony for this special family.
Ty takes the family outside where they are treated to a concert from another cancer survivor, music sensation Kylie Minogue. It's the perfect ending to a perfect week. Welcome home, Marshall-Spreier family. Welcome home.