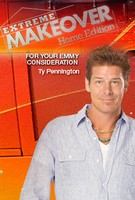 TV Info
---
Episode Premiere
April 04, 2010

Distributor
ABC

Genre
Reality

Show Period
2004 - Now

Production Company
Endemol Ent., Lock and Key Prod., ABC, Greengrass


Cast and Crew
---
Main Cast
Ty Pennington
Paul DiMeo
Paige Hemmis
Michael Moloney
Ed Sanders
Tracy Hutson
Tanya McQueen
Eduardo Xol
John Littlefield
Rib Hillis
Additional Cast
Synopsis
---
This week we're off to Kemah, Texas to help a truly inspirational couple and their children. But first, we meet Mark Bennett, who applied to 'get on the bus' to show his future daughter the importance of giving. Mark, you've come to the right place. A sentiment that becomes evident as we watch a video of the Beach Family.
Larry and Melissa were high school sweethearts who got married at a young age. While having four kids of their own, they've opened their home to over 85 foster children. The Beaches have adopted nine of their own, five of them having special needs. In 2008, Hurricane Ike hit Texas and caused irreparable damage. The family of 15 now lives in a 35-foot motor home. That simply won't do.
"GOOD MORNING, BEACH FAMILY!" That greeting never gets old. All 15 family members file out of the trailer when they hear Ty's call. Larry and Melissa walk Ty through their old home. It serves only as a cooking area since their youngest, Mercy, has a medical condition giving her very sensitive lungs. One of the older kids, Jose, talks about his close encounter with a snake in the bathroom. Larry breaks down a bit when he tells us that he feels like he let everyone down by having his family live in the trailer. Hey, we know Larry isn't letting anyone down. He just needs a little help. And he's gonna get it.
This week's celebrity volunteer is the beautiful Jessica Alba. She feels it's her duty to give a voice to someone who doesn't have one or lift someone else who is down. Jessica gets to work immediately on the backyard and also helps out with some construction in the house. She seems to take a "liking" towards Paul but can't use the word crush because her husband would be angry. Their playfulness is fun to watch.
While on vacation, the Beach kids are instructed to create their own song dedicated to their parents. At first, we thought the tune would be somehow be integrated with the makeover. But then we learn the children will perform the song at their parents' wedding. You heard us. Larry and Melissa are getting married!
Ty instructs Larry to get down on one knee and open a box he gave him before their trip. There's a beautiful ring inside. Larry asks Melissa to marry him one more time. Before, they were young and couldn't afford a dream wedding. That's okay. They made dreams come true for their foster children. Complete with Melissa's father who wasn't present the first time she tied the knot, this definitely qualifies as a dream wedding.
The recently remarried couple returns to Texas with their kids. When the bus driver "moves that bus," we see just how big the new house is. It can easily be described as a palace. There's even an elevator to help Mercy and Jeremiah get around when they get older. The kitchen now has a grill and two ovens. That's quite an improvement from the propane burner Melissa was using before. Here's the breakdown:
- The Extreme Fort Room -- Paul and Justin will have hours of play ahead in the ultimate indoor fort. There are even some soup can and string telephones to communicate. We're pretty sure Paul Dimeo used to play in forts when he was a kid. Perhaps as a grown up, too!
- The Jewelry Box Room -- Tracy created a very special room for Hope and Faith. The room features a jewelry box/cabinet that contains two special necklaces. The necklaces bear their names and when close together, they magically become one. They can't wait to wear them and give each other hugs.
- The Hacienda Spa Room -- Mikala told Michael that she wanted to be a massage therapist. Message received. Her room comes complete with a brand new massage table. That'll relieve some tension.
- The World Traveler Room -- Michael created a very nice room that the older siblings can call home. It has a very dorm-like feel to it. Michael even went to NASA to get some photos of the world to use as wallpaper.
- The Little Duckling Nursery Room -- Tracy made sure everything is contained for Mercy and Jeremiah in a central room. The nursery is tranquil and specifically caters to their special needs. The wall is interactive to make animal sounds when touched. Anyone else mooo-ved to tears?
- The Therapy Room -- Michael and Tracy borrowed a few themes they found at the carnival in Kemah. They designed a Ferris wheel that can be used as a storage unit. This is a place where Jeremiah and Mercy can build the muscles needed to walk and be healthy.
- The Trees and Tea Parties Room -- The room is a great combo for Gracie and Jacob. Half of the room is a jungle with fake rock pillows. The other half caters to Gracie and will be a perfect place to have tea parties. We'll have to see what happens when they have their friends over. Think Paul planned for that scenario?
- The Season/Guitar Room -- Eldest son, Chris, helps his parents raise his 12 other siblings. Paul wanted to create an area for his songwriting. In four different seasonally-themed locations, there is a guitar. Depending on which guitar is picked up, the displays around them will light up to reflect that respective season. We can't wait to hear what songs Chris will write in the future.
- The Master Bedroom -- Larry and Melissa will have a very relaxing place away from the children. Ty even added a Jacuzzi. The room features accessories made from wood that was salvaged from Hurricane Ike.
- The Backyard -- Jessica Alba grew up in Texas and knows the importance of a yard. She created a neighborhood destination with a barbeque grill and patio area. She also created a unique tree stump for each child that contains rings to represent the respective age of each person. Pretty cool.
Okay, this particular makeover was huge! It was also very rewarding. We leave the Beach family knowing how much love is in the household and how bright each child's future has become. Larry and Melissa cannot be more thankful. Think of all the children they'll now be able to help in the future. Welcome home, Beach family. Welcome home.