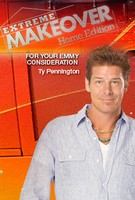 TV Info
---
Episode Premiere
March 14, 2010

Distributor
ABC

Genre
Reality

Show Period
2004 - Now

Production Company
Endemol Ent., Lock and Key Prod., ABC, Greengrass


Cast and Crew
---
Main Cast
Ty Pennington
Paul DiMeo
Paige Hemmis
Michael Moloney
Ed Sanders
Tracy Hutson
Tanya McQueen
Eduardo Xol
John Littlefield
Rib Hillis
Additional Cast
Synopsis
---
Earlier this season EMHE asked you, the fans, to "get on the bus." After receiving thousands of submissions, we're happy to report that Santino and Tanya were part of the masses who answered our call!
After being diagnosed with pancreatic cancer, Tanya can't think of a better memory to make with her son, Santino, than to hang out with the Extreme Team. Santino mentions his least favorite part of the show is when Ty is yelling. Sorry, Santino, but we don't see him quieting down anytime soon.
Bachelorette Jillian Harris offers her design skills as she joins the team. Ty teases her that there won't be a candlelit dinner or hot tub on the show. Bummer. Finally, Xzibit is back again for some more makeover fun as we head to Slaughterville, Oklahoma to help the Skaggs family.
Brian and Audra Skaggs have two beautiful children. Their youngest child, Jhett, suffered multiple cardiac arrests before receiving a heart transplant when he was just 10 months old. Two years later, Jhett is just like any other toddler, though he must take special medication and make regular doctor visits.
Jhett's weakened immune system is at high risk inside the family home. Brian and Audra were forced pay medical bills in lieu of making home repairs. Ty immediately notices the home's foundation is not level. He also scopes out some black mold on the wall, which is very toxic. Brian and Audra need a little help from the Extreme Team. Not a problem.
As the Skaggs take their first family vacation at Disney World, Ty gives them a call to ask for approval to start demolishing the house. Unfortunately, Jillian doesn't wait for her cue. Windows shatter while Ty was still on the phone with the family. Oops! Jillian points out that a few of the windows she shattered had more personality than some of the men she's dated.
Over the course of the makeover, we watch the Extreme Team put their skills to use. Tanya sheds some light that this makeover is a perfect way to get Santino some hands-on experience on giving back. Jillian plants some flowers in the garden with Tanya and admires the outlook she has on life. Meanwhile, Xzibit takes on the task of "pimping" Brian's tractor. Wonder where he picked up those skills.
It's that time again. "Bus Driver, Move That Bus!" Here's the breakdown of the house:
The Foundation: The house now has level wood floors. There's a state-of-the-art air filter so Brian and Audra will no longer have to worry about any pollutants damaging their son's immune system.
The Dinosaur Room: Jhett's room looks like a scene out of the jungles of Jurassic Park. From the dinosaur bed to the volcano, Jhett will have countless hours of prehistoric fun thanks to Michael.
The Coloring Room: Jillian put some great touches in Merit's coloring room. She's able to turn on the light to have an outline of the animal she's coloring, and then she can turn off the light to see her final product.
The Barn: Branded with "Skaggs Cattle Co." the barn has been completely renovated. Xzibit designed it for Brian and even managed to add some life to Brian's old tractor with a glitter-friendly paint job.
The Master Bedroom: Ty placed some very nice elements in the room. He hung a heart above the bed to emphasize the family's giving hearts.
The Kitchen: The kitchen sink is actually functioning now! Always a good thing. But it won't be filled with stacks of dirty dinner plates anytime soon because Michael installed a brand new dishwasher.
Thanks to the Extreme Team and their special guests, the Skaggs Family now has a new, safe home. We wish the best for Tanya and Jhett as we say, "Welcome home, Skaggs Family. Welcome home."