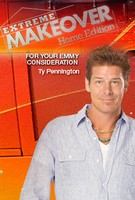 TV Info
---
Episode Premiere
October 11, 2009

Distributor
ABC

Genre
Reality

Show Period
2004 - Now

Production Company
Endemol Ent., Lock and Key Prod., ABC, Greengrass


Cast and Crew
---
Main Cast
Ty Pennington
Paul DiMeo
Paige Hemmis
Michael Moloney
Ed Sanders
Tracy Hutson
Tanya McQueen
Eduardo Xol
John Littlefield
Rib Hillis
Additional Cast
Synopsis
---
This week, Ty and the team head for the Hills...literally! They are off to Suffield, Connecticut to create some space for the Hill Family, all 13 of them! Special celebrity guest Xzibit provides some much needed muscle for this loving family, as they have most definitely outgrown their home.
The Hills were not always 13 strong. William and Catherine had a family of six before taking in seven nieces and nephews due to unforeseen circumstances. But based on how they interact with each other, you'd swear these kids are all brothers and sisters. We get a glimpse at the selflessness this family shares when we learn that Sonia Hill saved the life of her cousin, Shamia, by giving her a kidney. Now it's time for the EM: HE team to do a little giving to this remarkable group.
As you may have guessed, living in the Hill house can get a little cramped. The boys' room isn't big enough to hold everyone, so someone has to use the living room couch as a bed.
When Xzibit and Michael hit the basement, they find three inches of standing water along the floor. Can you imagine the amount of water damage or possible mold growing in that house? Don't worry. Thanks to Ty and his team, the Hill family will soon be living on dry land.
With such a huge family, the number of room renovations proves to be plentiful. Here are a few of the highlights:
- The entire Hill clan can now share a meal in the same room. Ty's unique dining room table features 13 different legs, one for each member of the family.

- No one has to sleep on the living room sofa anymore, as everyone has their own special bed!

- Rub-a-dub-dub, Catherine can take a bath in a brand new tub!

- Talk about hoop dreams coming true: The kids get their very own custom-made basketball court.

- The girls have their own bathroom and there's now enough space in their bedroom to dance the days away.

- As a reminder of their old house, there's a chair made of old bunk beds and books. We're wondering if one of the books is a biography of "Sitting" Bull.

- Finally, just for fun, the Hills get a totally cool one-of-a-kind interactive playing wall.


William and Catherine Hill have made sacrifices to care for their family of 13. That includes Catherine giving up her pursuit of a college education. Her goal in life is to make sure each of her kids gets a degree. So you can imagine her shock at the surprise donation of college scholarships for everyone in the family, including Catherine. Daughter Sonia can't wait to see Catherine finish school. We're pretty sure she'll get a kick out of seeing mom do homework, too.
Whether it's opening their home to their nieces and nephews or helping out an ailing cousin, it's pretty obvious that the Hills will do anything for family. And now they finally have a house that can fit all the love they have for each other.