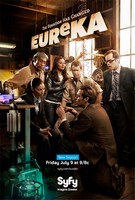 TV Info
---
Episode Premiere
September 12, 2011

Distributor
Syfy

Genre
Sci-Fi, Comedy, Drama

Show Period
2006 - 2012

Production Company
NBC Universal


Cast and Crew
---
Director
Michael Robison
Screenwriter
Bruce Miller
Main Cast
Synopsis
---
Nothing gums up your life like traveling through time and finding yourself in an alternate version of the present, as Jo keeps discovering. When she and Carter investigate a liquefied cow, Jo discovers that her alternate self turned down a marriage proposal from Dr. Taggert. Awkward, especially considering the fact that Taggert and Jo are teamed up to find out how on Earth - or Titan - a cow could liquefy.
And before you know it, other things start to liquefy, like Carter's Jeep. Allison discovers that a super acid was responsible for the dissolution of both, but they can't figure out how the super acid was formed - until Taggert fills them in on his bats. Turns out his contribution to the Titan mission was a group of bats whose guano would serve as a kind of fuel, and when combined with the poisonous gas from the tank where they've been roosting, this "fuel" becomes a super acid capable of destroying Jeeps and cows.
But the worst is yet to come, when this super acid causes a malfunction in the FTL drive during testing. Deputy Andy is in the wrong place at the wrong time and gets zapped to Titan! The Earth crew sets about repairing the landing pad so they can get Andy back home and out of the -300 degree Titanic weather. Carter presses the scientists to get his deputy back home, but things are not looking good. And when the bats fly through Carter's house and infect SARAH's wiring, Carter's spirits get even lower - he can't stand to lose both Andy and SARAH.
Fortunately, Allison has a job for him: she has figured out that, in order to reverse the effects of the super acid, they'll need a sampling from a gland of a mature female bat, so Carter and Taggert go hunting. They get what they need and return to GD with it, Carter instructs Andy where to stand, and the android deputy is returned safely home. He rushes to SARAH for a joyful reunion, inspiring Carter to tell Allison that he's ready for her and the kids to move in.
Zane, who has been chilly to Jo ever since he found out she withdrew her name from the Titan mission, finally tells her how sad he'll be in space without her, and wants to know if she'll wait for him until he gets back. From the bottom of her heart, she tells him that she can't know until she knows herself better. Although he was hoping for a different answer, her honesty means the world to him.