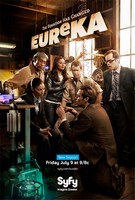 TV Info
---
Episode Premiere
August 29, 2011

Distributor
Syfy

Genre
Sci-Fi, Comedy, Drama

Show Period
2006 - 2012

Production Company
NBC Universal


Cast and Crew
---
Director
Andrew Seklir
Screenwriter
Amy Berg
Main Cast
Synopsis
---
Everyone's on edge waiting for their final interviews for the Astreus mission, but Allison and Carter are extra stressed - they appealed the ruling that they have to terminate their relationship, and their second review is today. GD is using a neural interface for the Astreus interviews, and Warren Hughes, the relationship auditor, is using the same one to cull memories and sensations from Allison's and Carter's brains. Carter's worries that he may let slip some memories of the alternate timeline are zapped away when Hughes spills coffee on Carter's interface device, shocking himself and momentarily distracting Carter.
The two lovebirds try to go about their day as normal, but since this is Eureka, "normal" has a whole new meaning. Someone has sabotaged the Astreus space vessel, and it's ready to launch into the atmosphere, tearing a hole right through GD. They manage to power down the engines, and see that someone has fired a rod right at the vessel, much like the rod that Carter fired into a dump coil to ground positronic lightening a while back. And when Hughes gives Allison a cell phone, and tries to kiss her, they realize that his mishap with the neural interface made him believe that he is Carter and that he must live out the scenarios from the memories he absorbed.
Carter tries to detain Hughes, but the auditor slips through his grasp, steals the sheriff's Jeep and races toward the cliff where Beverly Barlowe once had her concealed lair. Carter speeds after Hughes and narrowly cuts the man off before he is able to jettison himself from the cliff. Back at GD, Grace examines him and performs a fusing operation that should remove the full delusions that this quiet rule-follower is the sheriff of the world's craziest little town.
When he comes to, he is back to his normal self, save for one important detail: he's filled to the brim with excitement over Carter and Allison's relationship! He gives them the full seal of approval, along with a big, loving hug. It seems the details of Carter's memories are gone, but the associated feelings of love are still there!
Carter and Allison aren't the only ones breathing sighs of relief: Holly and Fargo have both been accepted to the Astreus mission! It's a double dip of joy for Fargo, who beat out his rival, Dr. Parrish. Zane feels bittersweet about his own acceptance, as Jo will not be on the mission - she withdrew her own name in order to make room for someone who really, dearly wanted to go.