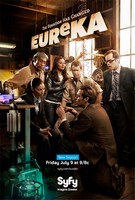 TV Info
---
Episode Premiere
August 01, 2011

Distributor
Syfy

Genre
Sci-Fi, Comedy, Drama

Show Period
2006 - 2012

Production Company
NBC Universal


Cast and Crew
---
Director
Alexandra LaRoche
Screenwriter
Kira Snyder
Main Cast
Synopsis
---
It's a good day for Carter - someone robbed a bank! He rushes to the scene, thrilled to finally have a case that he can crack using good old-fashioned police work, but when he arrives, he finds that it's not that someone stole the money - they stole the bank! The entire building has been rooted from its foundation and gone missing.
As Carter grumpily goes searching for a scientific explanation instead of a masked bandit, the rest of Eureka is under the fierce gaze of Jo as she whips them into physical shape for the Astreus Mission. Grace is not sure she'll make the pull-up challenge, while Zane is exceeding expectations. His criminal past automatically bars him from going on the mission, but he's determined to show the selection committee all they'd be missing out on.
Fargo has other issues. In addition to struggling with the physical challenges of Jo's training, he's also getting some stiff competition for Dr. Holly Marten's heart from Dr. Parrish - or, Isaac, as Holly now calls him. In a competitive display, Parrish lobs a medicine ball at Fargo, which takes him sailing through the air and lands him in a tree! Somehow, the massive medicine ball became light as helium.
But this random act of lofting may be a blessing in disguise, as it shows the team to look to the sky for the bank. After reviewing the contents of the safe deposit boxes there, they discover that two heirlooms - antimatter and a seemingly defunct anti-gravitational device - have activated each other and made objects containing high percentages of metal float away into the sky. Since the bank was the epicenter, it floated first, and highest. Carter must hoist himself into the bank and neutralize the antimatter if he is ever to get Eureka's metal back on terra firma.
But his heart is elsewhere: Allison has been blanking out on whole chunks of her day, and it has both her and Carter worried. She decides to use her new equipment to scan her own brain, and finally discovers the mechanized neurotransmitters that Beverly Barlowe planted there.
Carter nearly plunges to his death trying to land the bank on solid ground, but comes through in the end. And Fargo decides not to let P.E. class, or Dr. Parrish, get in the way of what he wants: he asks Holly to assist him with any workouts he might have missed, while sending Parrish on a lonely inventory assignment. Zane convinces Jo that she should also try for the Astreus Mission - a gesture of friendship unseen in either timeline - and Grace and Henry decide that they will be on the mission together, no matter what.
Carter comes home to Allison, and though he's still concerned, she convinces him that she's made a full recovery. She keeps the secret of the neurotransmitters to herself because she has no choice: Beverly Barlowe is now controlling her every move, thought and word, and Allison is powerless to stop it.