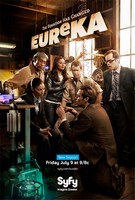 TV Info
---
Episode Premiere
July 16, 2010

Distributor
Syfy

Genre
Sci-Fi, Comedy, Drama

Show Period
2006 - 2012

Production Company
NBC Universal


Cast and Crew
---
Director
Matt Hastings
Screenwriter
Jamie Paglia
Main Cast
Synopsis
---
Eureka is abuzz with geniuses celebrating the anniversary of the founding of their town. Henry, repairing the Founders Car, gets some help from a new acquaintance named Grace; Allison is struggling with the challenges of caring for a toddler and an autistic teenager; Carter isn't looking forward to the big party - his recent breakup with Tess still stings; Kevin tinkers with a mysterious machine, and Zane proposes to Jo, who panics in the moment of tenderness.
As Carter heads out for a run, his cell phone rings and his surroundings change. Believing it to be another Eureka quirk, he flags down the Founder's Car, driven not by Henry, but a stranger named Dr. Trevor Grant. Carter's mien makes Dr. Grant uneasy, but he agrees to drive Carter to his destination. As they reach the end of the road, Carter finally realizes the extent of the Eureka "quirk", the entire town is replaced by a military base called Camp Eureka. Carter has traveled to the year 1947.
Awaking from a blow to the head, Carter sees Allison disguised as a nurse. She sneaks him out of captivity, but just as they agree to keep out of sight as they find a way home, in charges Jo on a stolen motorcycle, with a tank in pursuit of her. Once arrested, Jo discovers Fargo in the cell, sharing her fate. Grant, having seen Allison giving modern care to a wounded soldier, starts to put the pieces together, and asks her to care for two prisoners that end up being none other than Jo and Fargo. Allison narrowly manages to get them out of prison.
Carter spots Henry and they discover a correlation between their cell phones and increased solar flares. While investigating the labs at Camp Eureka, Henry recognizes an equation, and Carter recognizes the machine that Kevin was working with in 2010. Henry realizes that if Kevin tuned it to a certain frequency, it could've combined with their cell phones to send them back in time. When Grant catches them snooping, Carter panics, but Henry recognizes him as Einstein's partner in building the very device that took them to 1947.
Intrigued by their plight, Grant pledges to find a way to help them, but his military counterpart is determined to arrest the future Eurekans. After some fancy science and satellite repair on Carter's part, they have a chance of getting back home. Carter and Allison head to the camp's dance party to hide in plain sight while the other three work feverishly to find the right frequency - but if they don't catch it by 11:00, they'll all be stuck in the past permanently. The moments pass quickly as the military zeroes in on them, and just at the stroke of 11:00, the phones light up, and the team is miraculously sent home.
United, the five celebrate their victory, until they discover some disturbing changes. Jo learns that she and Zane were never in love, Henry discovers he's married to Grace, Kevin is no longer autistic and Carter and Tess are still happily together. But the biggest surprise? Dr. Grant made the jump from 1947 to contemporary Eureka.