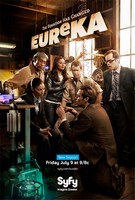 TV Info
---
Episode Premiere
July 10, 2007

Distributor
Syfy

Genre
Sci-Fi, Comedy, Drama

Show Period
2006 - 2012

Production Company
NBC Universal


Cast and Crew
---
Director
Mike Rohl
Screenwriter
Jaime Paglia
Main Cast
Additional Cast
Tamlyn Tomita
Garwin Sanford
Paul Christie
Stephen Powell
Raugi Yu
Synopsis
---
Recently, after Henry traveled through time to save Kim, the woman he loved, from deadly exposure to the mysterious artifact in Section Five, he and Jack Carter both enjoyed four years of a happy alternate future. Jack married Allison Blake, and Henry married Kim. Unfortunately, when that timeline destabilized, Jack had to force Henry to return to the past and let Kim die, restoring the proper timeline.
Now, both men are struggling to cope with their memories of that lost future. As Henry grimly suppresses his grief, Jack clings to the hope that he and Allison are destined to marry. Allison, however, is currently committed to saving her ex-husband, Global Dynamics director Nathan Stark, from being fired because of Kim's death.
Real life, in other words, is very different from the future that Jack remembers. He receives further proof of that when, to his surprise, a man named Wayne Kwan spontaneously combusts during a solar eclipse. After dismissing solar flares and Vincent's five-alarm chili as culprits, Jack digs deeper into Kwan's background to find the answer.
Although Kwan was an occupational therapist, he made frequent phone calls to a scientist named Rob Matthew in Section Five. Jack and Lupo hurry to Matthew's house, but they're too late: Matthew has burned to a crisp. Henry discovers that an electrical overload in both victims' brains started the combustion. They must figure out what triggered that overload - and how to stop it.
Meanwhile, despite Allison's words in his defense, Eureka's overseers at the Pentagon remove Stark from power. In his place, they assign Allison. As Stark rails against this indignity, Allison helps Jack to pinpoint a third researcher, Ryan Brock, who worked with Matthew. Once again, Jack is too late. He finds Brock just before the man bursts into flame.
As Jack and Henry work to solve this frustrating mystery, the stress of their secret shared memories slowly erodes their friendship. Still, they determine that Kwan was with Matthew and Brock in Section Five at the time of Kim's accident. All three victims were thus exposed to low doses of the same exotic particles that killed her - particles that are now causing their bodies to ignite.
Because he was supervising the experiment, Stark was exposed, too. As his brain builds up to a fiery overload, only a radical treatment has a chance of saving his life. Henry and Jack's friendship, however, may not have a chance at all.