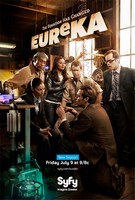 TV Info
---
Episode Premiere
October 03, 2006

Distributor
Syfy

Genre
Sci-Fi, Comedy, Drama

Show Period
2006 - 2012

Production Company
NBC Universal


Cast and Crew
---
Director
Michael Lange
Screenwriter
Johanna Stokes, Andrew Cosby, Jaime Paglia
Main Cast
Additional Cast
J.R. Messado
Keith Wilson
Bryan Wilson
Aaron Isaacs
Tamlyn Tomita
Synopsis
---
On Zoe's graduation day in 2010, the citizens of Eureka are enjoying a bright future. Henry has married his beloved fellow scientist Kim, and Carter and Allison are happily wed and expecting a baby. Then Fargo interrupts Zoe's celebration by summoning Carter and Allison to Global Dynamics to solve a gruesome mystery. A woman's body has appeared out of nowhere, badly burned by exotic radiation and fused into a wall within the top-secret Section Five.
Henry, who now leads Global Dynamics, explains that the body's DNA is too badly damaged by radiation to identify. The radiation, oddly, comes from Stark's mysterious artifact, which remains safely stored in Section Five although Stark himself was fired a few years ago.
As Kim struggles to identify the body using an experimental DNA reconstruction program, Allison and Carter return to the graduation celebration, only to be interrupted again when Carter's old Jeep - a relic of the year 2007 - materializes in the middle of Main Street. Because the body also seems to have come from another time, Fargo theorizes that Eureka is suffering from temporal anomalies caused by the tachyon accelerator at Global Dynamics - a time-manipulation device that has been locked up since its near-disastrous invention.
Upon investigation, Carter discovers that only one man possesses both access to that device and the knowledge of quantum physics needed to use it: Henry. Meanwhile, Kim faces an even more chilling truth: the dead body is hers. She, Carter, and Allison confront Henry, who sadly confesses that he's responsible. In October 2006, he explains, Kim died in a radiation blast while helping Stark drill a core sample from the mysterious artifact. Grief-stricken, Henry seized Stark's job at Global Dynamics to gain access to the tachyon accelerator. He then used it to travel back in time to the day Kim died. He saved her life, thus initiating a second timeline that Eureka has now experienced for four years. But the original timeline has begun competing with its replacement. The temporal anomalies will only increase, eventually tearing this space-time apart.
Henry can help Carter make a dangerous journey back in time to set things right. But if Carter succeeds in erasing the second timeline - essentially resetting the clock to 2006 - the family he's built with Allison will vanish and Kim's death will ravage Henry all over again. As the temporal anomalies grow more destructive, Carter, Henry, Kim, and Allison must choose between clinging a few moments longer to happiness - or saving the world.