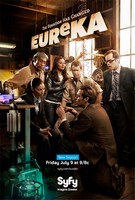 TV Info
---
Episode Premiere
September 12, 2006

Distributor
Syfy

Genre
Sci-Fi, Comedy, Drama

Show Period
2006 - 2012

Production Company
NBC Universal


Cast and Crew
---
Director
Colin Bucksey
Screenwriter
Martin Weiss, Martin Weiss, Johanna Stokes, Karl Schaefer
Main Cast
Additional Cast
Aleks Paunovic
Robert Clarke
Rukiya Bernard
Synopsis
---
Jack is impressed when Taggart uses nanoids - tiny robots that function like living cells - to heal an injured dog. But soon afterward, the nanoids mysteriously awaken from their peaceful, dormant state and escape into Global Dynamics' computer service corridors. There, they turn violent, killing a computer technician so they can replicate themselves using the carbon in his body.
Not until Taggart glimpses the newly healed dog running free down a hallway does he realize that the nanoids aren't merely replicating themselves; they're also able to mimic the appearance of living beings. He tries to warn Stark, but the General Dynamics boss is distracted by a new mind-computer interface he's testing and upset because Allison has finally served him with divorce papers, so he underestimates the seriousness of what's happening at his facility. Then someone who looks exactly like the dead computer technician secretly attacks Stark and drags him into the service corridors.
Taggart and Jack, carrying an EM-burst gun that can reduce the robots to dust at close range, start an intense hunt for the deadly machines. Jack shoots the nanoid dog just as it attacks them. Then they hear Allison struggling as a nanoid Stark attempts to kiss her. Jack blasts it into dust, too. But multiple Starks now seem to be prowling the halls of Global Dynamics, and in no time, a small army of Starks is marching through Eureka's streets.
Certain that the nanoids have fixated on Stark for a reason, Jack and Taggart search the dark, creepy computer service corridors until they find the original Stark unconscious on the floor. They wake him, and at last the mysterious behavior of the nanoids makes sense: by chance, the neural computer interface that Stark is testing transmits signals from his brain on the same frequency that the tiny robots use. Awakened and motivated by Stark's thoughts, they have been obeying his unconscious desires, such as kissing Allison - or taking over the world.
There are now too many of these frighteningly ambitious Stark clones for Jack to hunt down individually. Instead, he must lure them all to one location by provoking a powerful emotional desire in the real Stark, one which will serve as a single directive they must obey. For the sake of saving the world, therefore, Jack decides that he must become the nanoids' target, and the way to do that is to make Stark murderously jealous of him - by kissing Allison.