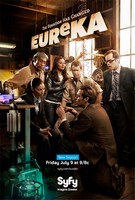 TV Info
---
Episode Premiere
August 08, 2006

Distributor
Syfy

Genre
Sci-Fi, Comedy, Drama

Show Period
2006 - 2012

Production Company
NBC Universal


Cast and Crew
---
Director
Marita Grabiak
Screenwriter
Harry Victor, Dan E. Fesman, Varina Bleil, Betsy Landis
Main Cast
Additional Cast
Garwin Sanford
Daryl Shuttleworth
Layla Alizada
Synopsis
---
Dr. Stark welcomes to Eureka Congressman Arnold Faraday, a legislator with the power to determine Global Dynamics' funding. With the town's future at stake, only a few people notice when Henry's assistant Spencer screens a pirated movie for a select audience of Taggart, Fargo and Vincent. Summoned to Spencer's place by a noise complaint, Deputy Jo Lupo settles in to watch the chilling alien-invasion drama.
The next day, however, Spencer's missing - and there's a trail of blood leading out of his house. With Henry's help, Sheriff Jack Carter and Lupo explore nearby fields until they find Spencer huddled naked within a circle of flattened crops. Lupo leaps to the conclusion that aliens are responsible, but Jack holds out for a more reasonable explanation - whatever that is.
Then Fargo also disappears, after the failure of a military project he was helping to develop: a low-frequency signal, transmitted by satellite, which affects the brain function of enemy troops until they become paranoid enough to kill each other. When Stark demonstrates the project for Congressman Faraday, the monkey test subjects remain totally calm. Faraday seizes on this debacle to force Stark's hand, threatening to decimate the facility's funding unless Stark shows him the top-secret Section Five - and a mysterious and dangerous artifact that's housed there.
Vincent vanishes next. Before Jack can respond to this latest incident, Lupo delivers a shock of her own, knocking Jack out with a vicious blow and then stealing every gun in the office. Awakened by Henry, Jack dazedly puts together the pattern that's been eluding him: all the missing people attended Spencer's movie night.
Spencer, raving nonsensically about killing an alien who has infiltrated the government, gives Jack his next clue: the missing people are plotting an assault on Congressman Faraday, whom they think is an alien invader. In fact, Henry discovers that Fargo's paranoia-beam actually works. While pirating the movie last night, Spencer unwittingly bounced the signal off the very Global Dynamics satellite that was transmitting the paranoia beam down to the monkeys. The beam struck the movie-watchers instead, forcing them to believe that Eureka was the real target of the film's fictional invasion.
This revelation, however, might have come too late. Lupo, Fargo, Vincent and Taggart, armed with the guns Lupo stole, have abducted Faraday and barricaded themselves inside Taggart's well-defended house. And they aren't leaving without a fight.