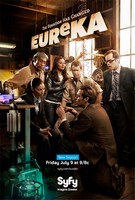 TV Info
---
Episode Premiere
July 25, 2006

Distributor
Syfy

Genre
Sci-Fi, Comedy, Drama

Show Period
2006 - 2012

Production Company
NBC Universal


Cast and Crew
---
Director
Jefery Levy
Screenwriter
Andrew Cosby
Main Cast
Additional Cast
Jennifer Clement
Rob LaBelle
Zak Ludwig
Synopsis
---
Jack Carter hasn't even had time to find an apartment of his own, but he has already attended a funeral for two of his new constituents, Walter and Susan Perkins. Walter was presumably killed by a disastrous science experiment, after which his wife apparently committed suicide.
No sooner has Jack returned from this sad ceremony, however, than Susan herself strides into his office. She announces to the stunned sheriff that she broke up with Walter years ago when their careers took them separate ways, and she demands to know why her parents have gotten a message saying she's now dead.
Jack's sure that he just buried this woman, so he exhumes the body and takes both Susans to Global Dynamics - the town's advanced research facility. He'll need the help of Eureka's best minds to solve the mystery of these duplicates, one dead and one alive. He'll also need to win the support of Dr. Nathan Stark, the facility's new director of research - who also happens to be Allison Blake's estranged husband.
On top of all that, Jack still hasn't found a place to live. He's preparing to spend another night in the town's jail cell until Fargo, Dr. Stark's assistant, offers to let Jack live in a computerized "smart house" he's been designing. Jack is too weary to resist. But Fargo's Self-Actuated Residential Automated Habitat has a mind of its own. SARAH's eccentricities (for example, becoming offended if Jack isn't home on time for dinner) are exacerbated by a strange power surge that night, one of several that have been plaguing the town.
The next day, advanced tests with a molecular bio-scanner reveal that the dead Susan is a copy of the living one: Walter painstakingly re-created each of her cells seven years ago as a substitute for the real woman he'd loved and lost. As the living Susan struggles to adjust to this news, another bizarre power surge causes Dr. Stark to pass out.
Later, Stark tells Jack that he saw an ominous dark figure just before losing consciousness. Thinking fast, Jack pulls up video surveillance footage from SARAH and spots a similar dark figure standing in his house at the exact moment of the power surge the night before. And the figure's face looks hauntingly familiar.
As it turns out, Susan isn't the only Perkins who's not exactly dead....