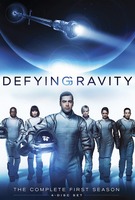 TV Info
---
Episode Premiere
August 30, 2009

Distributor
ABC

Genre
Drama, Sci-Fi

Show Period
2009 - 2009

Production Company
BBC, Fox Television Studios, Omni Film Productions


Synopsis
---
Drawing closer to the orbit of Venus, some members of the Antares crew struggle with guilt and experience vivid repercussions of past actions. Meanwhile, a serious accident causes the life of a teammate to hang in the balance, uniting everyone in the desperate endeavor to save her.
Wassenfelder and Paula continue their bickering - albeit with romantic undertones, if you ask us - so Ted assigns them to relocate some crates together in one of the storage pods. Commander Ted's sweat-bonding, Wassenfelder dubs their laborious duties.
But a serious accident occurs when Paula, who isn't paying attention, is passed a heavy crate by her crewmate-leading to the severing of her thumb and a bloody abdominal injury!
Unfortunately, Mintz's wartime hallucination of the Palestinian girl in the bombed-out school building threatens his surgical control, and he runs into trouble while operating on Paula. Mainly, we watch as he stands frozen over the operating table, unable to move.
Donner-who we learn via a flashback is squeamish about blood is forced to take over, naturally. Woo, boy-this could get messy!
In the science lab Jen shows Zoe the rabbit fetus she has been secretly raising. This triggers an emotional backlash from Zoe, where we witness the day she took the pill to induce her abortion five years prior.
In the end, when he's questioned by Ted and Donner, we learn that Mintz was the one who called in the strike on the school building that killed the girl in his wartime hallucinations. He'd been under the impression that the enemy was staked out in the structure, but it ended up just being a school with children inside. When he mentions his vision, we see a knowing glance between the two veteran astronauts, as we know from previous episodes that they, too, have been suffering from their own haunting apparitions from the past.
In a final scene, we see Wassenfelder sitting beside Paula's bed, clasping her good hand. After searching high and low in the storage unit, he was able to recover her severed thumb, thereby speeding up her recovery time.
As impossible as it seems, it's becoming obvious to us that the Antares has a way of bringing even the unlikeliest of friends together.