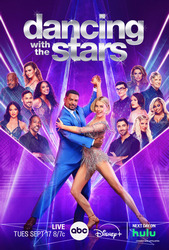 TV Info
---
Episode Premiere
May 19, 2009

Distributor
ABC

Genre
Reality, Music

Show Period
2005 - now

Production Company
BBC Worldwide


Cast and Crew
---
Main Cast
Tom Bergeron
Carrie Ann Inaba
Len Goodman
Bruno Tonioli
Brooke Burke as Herself - Host / Herself / Herself - Audience Member
Samantha Harris
Synopsis
---
We're finally here, and it is tight as ever. I don't know about you, but I have no idea who will win. I think Melissa will come in third, but I've been vacillating between Shawn and Mark for the win. Thank God I have Lady Gaga's one-legged pleather bodysuit to take my mind off of it for a hot (mess of) a second. And you thought Dancing's costumes were heinous. This has to be a crime somewhere. I also can't listen to "Just Dance" anymore without thinking of, no, not Justin Timberlake, but Michael Scott's "It's Britney, bitch."
I've made no secret of my contempt of show-filler, but - full disclosure - I like nostalgic filler (don't judge me), like the season retrospective and dance reprisals from all the eliminated contestants - even if this means we won't get to the actual competition or the contestants for another hour or so. I don't blame you if don't watch this part, but this is better than half the stuff they have on their normal results shows. The package reminds us that Belinda Carlisle was once in this competition. Doesn't that seem like years ago? No offense, B! She and Jonathan Roberts redo their salsa, while couples Denise Richards and Maksim Chmerkovskiy and Holly Madison and Dmitry Chaplin follow, with their quickstep and samba, respectively. Exuberant as always, Denise describes her limited experience as fun, Belinda remembers the nausea and hysteria, while Holly thanks her "personal trainer" Dmitry for getting her in shape for Peepshow (a haven for female Dancing alums, apparently). That nicely segues into the most jaw-dropping news of the night: Tom's shameless plug of Samantha's Broadway gig this summer as Roxie Hart in Chicago. Say whaa?! If Sam can't even read cue cards, how is she going to memorize lines and lyrics?
Speaking of the inability to perform, Steve Wozniak and Karina Smirnoff get a solo reprisal segment for their quickstep. At Tom's request (and Karina's dare), Woz attempts to do the worm. Horribly. I'd feel embarrassed for him, if I cared that much. A bald David Alan Grier follows with his lovely Viennese Waltz for about two seconds, when it ended before it even began. What a nice slap in the face. Steve-O follows with his foxtrot, or as he told me, his foxtrot redemption. As you recall (no pun intended), he forgot his steps the first time around.
Pick a Pro: Anna Demidova vs. Mayo Alanen

And the coveted spot goes to... Anna! As if there were any doubt. They totally threw Mayo under the bus last week. He looks like he's going to cry. I'd give him my shoulder, but he'd have to bend down about nine inches. Anna and Maks reprise their quickstep, with apparently the same boa Woz and Karina used before. All in the family, right, Maks?
Lawrence Taylor continues to bring on the awkwardness by dropping the words "lap dance" after his jive redux (with Edyta Sliwinska's hot pink legwarmers. It's '80s week, remember?). Family show, LT! Family show! Chuck Wicks and Julianne Hough do their samba. It's understandable since that was his breakout, but I kind of wanted them to slip on the black lace again. Which is the lesser of two evils? Chuck in red satin or black lace? Lil' Kim, predicatbly, does her Jailhouse Rock-in jive, while Ty got physical again with the Lindy Hop.
Roast

Just shy of the end of the first hour, we finally get to see Shawn, Gilles and Melissa... so they can get roasted by Jeffrey Ross. I'd much prefer another edition of DanceCenter, with Ty, of course, rather than Jeff, but such is life. He tries way too hard, but he had some zingers: Belinda looks like a hooker from Battlestar Galactica; Gilles didn't have the biggest role in Sex and the City - but had the largest part (The latter is full of win only because of Shawn's look of utter confusion). And then there were the bombs: Ty came out of Brokeback Mambo; Woz took a bite out of the Apple logo; he wants to marry Melissa (Wow, who hasn't heard that one before?). What does it say about your comedic skills when a French stud one-ups you later with, "Melissa, you take this rose. I'll take the trophy"?
REPEAT DANCES

Shawn Johnson & Mark Ballas: Cha-Cha

I have to give props to Shawn for choosing a dance she didn't get a perfect 30 on originally, unlike Gilles' and Melissa's choices. She did a killer cha-cha last time and she's totally capable of getting the 30 here, which, let's face it, they're going to get. She definitely looks more comfortable and has injected it with more personality, as she said she would. Shawn's technical precision's always been there, so it's nice to see the character come together, too. Her hips also look sharper and looser. Len thinks she aced the performance aspect. Bruno calls it sassy and loves the technique. Carrie Ann thinks they all underestimated her, but notes her upward trajectory from the past three weeks.

Score: 30
Melissa Rycroft & Tony Dovolani: Samba

Keep an eye out for boob poppage! The only plus for Melissa doing the samba again is the fact that she has her little solo at the beginning, which, for some reason, seems way shorter this time around. This dance is made for Melissa the party girl. She's perfected the samba rolls and has the shimmying down pat. She's getting another 30. Bruno calls it even more appetizing and drools over her body. (Is he imagining her wardrobe malfunction?) Carrie Ann thinks she embodies dancing and Len calls the samba fantastic.

Score: 30
Gilles Marini & Cheryl Burke: Argentine Tango

The good thing about Gilles choosing the AT is that it was from way back in Week 4, so it's not as fresh in our minds as Melissa's samba. It was also the source of his first 30, so this is supposed to be a perfect coda, I suppose. It's dramatic, passionate and completely commanding. It almost erases the underwhelming dreck that was their freestyle. Almost. Carrie Ann says he brings amazing artistry to the floor. Len has enjoyed watching him the most and says Gilles has brought him back 50 years back in time. Is this Lost? Bruno calls it an Argentine Triumph. By the by, didn't Gilles' and Cheryl's backstage odes to each other sound like wedding vows?

Score: 30
Third Place

Melissa & Tony
Maybe people were watching The Bachelorette instead of voting Monday night? In all seriousness, this wasn't that surprising, especially after their freestyle break-tastrophe. The biggest question mark for Melissa was always her fan base, and when push came to shove, Bachelor sympathy can't match up with Olympic fever and Sex-iness. Still, it's a great showing for a last-minute replacement, even if they never showed her tramp stamp. But we'll always have those jeans.
Less than one percent separated first and second, Tom and Sam tell us. That's the closest margin in Dancing history. And now, after one hour and 57 minutes of fluff, the Dancing with the Stars Season 8 winners are... Shawn and Mark!
Shawn's screaming. Mark is having a conniption. An upset? A little. Gilles has been the most consistent all season, but two factors may have made the difference: Shawn's built-in fan base and her awesome freestyle. Always the gentleman, Gilles congratulates them both and gives a shout-out to his family and Cheryl. The third pro trophy will have to wait, Cheryl, but things do come in threes - for Olympians. Shawn's the third Olympic gold medalist to win the Mirrorball and keeps the Olympic champs' winning streak in the finals intact.