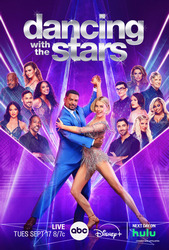 TV Info
---
Episode Premiere
May 18, 2009

Distributor
ABC

Genre
Reality, Music

Show Period
2005 - now

Production Company
BBC Worldwide


Cast and Crew
---
Main Cast
Tom Bergeron
Carrie Ann Inaba
Len Goodman
Bruno Tonioli
Brooke Burke as Herself - Host / Herself / Herself - Audience Member
Samantha Harris
Synopsis
---
We're here! It's the last performance show of the season and yet it's still full of firsts - the punch-out, freestyles and Samantha saying "finaale." Wait, that's not new. Anyhow, in case you didn't prep with our preview, the punch-out will feature all three couples dancing back-to-back-to-back with the same music. Now watch them get craptastic music. And they do! Pink's "So What." Really?
PASO DOBLE FACE-OFF

In possibly the show's greatest scripted moment ever, Len assigns his minions (Bruno and Carrie Ann) stars to advise. CA's chomping on a salad when she gets the call, while Bruno's poolside in his itty, bitty Speedo. Bruno's too good for spray tan, y'all!
Shawn Johnson & Mark Ballas

Bruno advises Shawn to extend her arms and to surprise everyone with something they've never seen before. Shawn looks perfectly in step, but doesn't seem to be attacking it as aggressively as she did in her original performance. Let me re-phrase that: She is attacking it, but she doesn't have her "angry" Renee Zellweger face on this time. If she couldn't get a 30 last time, I don't think she'll get one for this. Len finds it exciting. Bruno calls her Dexter. Carrie Ann notes the lack of emotional commitment.

Score: 28
Melissa Rycroft & Tony Dovolani

Carrie Ann invades Melissa and Tony's rehearsal to admonish Melissa on her lack of killer instinct. She wants Melissa to charge at her. That was Melissa's problem: She wasn't picturing CA. It's a shame we did our Sexiest Outfits gallery already because her bedazzled bikini and coat are hot as hell. Melissa's on the offensive like crazy. They bobble on a turn toward the end. That's not going to cut it here, guys. Len points out the slip-up. Bruno calls her a drama queen. Melissa thinks she nailed the soul.

Score: 29
Gilles Marini & Cheryl Burke

Len graces Gilles and Cheryl with his presence and proceeds to do arm circles with Gilles. Is this good for his shoulder? Sabotage? The pink and organ coloring on Cheryl's skirt really clashes with the rest of the black, white and red in their costumes. Gilles is definitely less frantic here and looks smooth yet combative at the same time. He's got the emotion of it down too, which is not surprising. He's like the end result of Shawn and Gilles. Len says it wasn't hectic. Bruno calls him a leading man. Carrie Ann calls it perfection.

Score: 30
FREESTYLE

Shawn Johnson & Mark Ballas

Shawn doesn't want to include too many tricks in the freestyle and gets some advice from one of my future husbands, Apolo Anton Ohno, who reminds her that there hasn't been an Olympian who lost in the finals. No pressure, right? Well, pressure's a privilege and champs know that. They're decked out in, as Tom says, Las Vegas robber gear, before stripping down to glittery, lime-green get-ups. This thing is fast. But fun and lively and totally entertaining, which is what a freestyle should be. It reminds me of Mark's freestyle last year with Kristi Yamaguchi, but more youthful and explosive. It's not chock full of tricks, but enough eye-popping flips to make an impact. Bruno says Shawn sold it. Carrie Ann says it's full of energy. Len loves the speed and the precision... and he just loved it.

Score: 30
Melissa Rycroft & Tony Dovolani

Melissa's worried about tricks, but Tony thinks they should go for it... and she clocks him in the eye. Shawn may have gotten Apolo's advice, but Melissa's the one taking a page out of his freestyle. Except this is nowhere as awesome as Apolo and Julianne's was. Can you believe that was two years ago? I feel like I'm watching Bring It On: Cheering on the Dance Floor. It's just... weird, like an awkward mix of club dancing and cheerleading. I didn't watch Season 2, but I've heard rumblings (and saw that wee clip) of Tony's catastrophic freestyle. I can't compare this one to that, but maybe Tony is just incapable of choreographing a freestyle. Hip-hop is clearly not his forte, so I don't get the theme here. There are random lifts and flips, only to be followed by the most cliched and overused dance moves. Also, compared to Shawn and Mark's number, this routine looks like it's crawling. Carrie Ann loves Melissa's new attitude, but says the choreography felt disjointed. Len thinks she showed versatility and would've preferred to see her tap into her ballet reserves. Bruno agrees with Carrie Ann on the lack of connection between the lifts and moves.

Scores: 27
Gilles Marini & Cheryl Burke

Gilles told me there are a bunch of lifts in the freestyle and he hopes his shoulder holds up. He calls in a doc to patch up his shoulder. Cheryl thinks he can be better than Drew and Emmit. Oh, snap! Oh, snap again! They're doing Flashdance! It's a rather weird choice, no? Since the flick is about a girl, not a guy, or a guy and a girl. I mean, if you're going to go with an '80s dance movie for a guy, you've got to go with Dirty Dancing. Anyhow, this is a decent number, steamy and on-point, but not what I expect of a freestyle: It doesn't need to be energized and upbeat like Shawn's, but it does need to be creative. Plus, Gilles was basically just lifting Cheryl most of the time. Len says it's slick and calls him a real dancer. Bruno wanted more dancing. Carrie Ann agrees with Bruno and notes the odd choice of Flashdance as well.

Score: 28
So that's that for now. Tuesday night we'll get their repeat dances before we narrow the field down to two. I call the Paso face-off for Gilles and the freestyle for Shawn. Lo and behold, they're tied! I don't really pay attention to the scores though since they notoriously score all the couples close to keep things interesting (except for Marie Osmond).