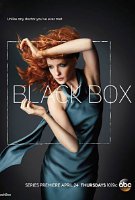 TV Info
---
Episode Premiere
June 26, 2014

Distributor
ABC

Genre
Drama

Show Period
2014 - 2014

Production Company
Bold Films, Sierra-Engine Television


Cast and Crew
---
Director
Bronwen Hughes
Screenwriter
Gary Lennon
Main Cast
Kelly Reilly as Dr. Catherine Black
Ditch Davey
David Ajala
Ali Wong
Laura Fraser
David Chisum
Siobhan Williams
Terry Kinney
Vanessa Redgrave as Dr. Hartramph
Additional Cast
Aja Naomi King
Tasso Feldman
Alex Hernandez
Audrey Esparza
Zach Appelman
Synopsis
---
Catherine has a sex dream in the early morning hours are the aftershocks of night of passion spent with Bickman. She's a little unhinged when Will stops by her place with an update of how Delilah was waiting for him at the restaurant in her underwear. At work, Catherine daydreams about kissing Bick. Joshua tries to convince her to work things out with Will, who continues to deal with the awkwardness of being around Delilah.
Gordon Finley is a bank teller who was fired for swiping cash. He claims he has no control over what's happening with his left hand. Catherine determines has a condition known as Alien Hand Syndrome which is a known complication of brain surgery. There's no cure, but Botox helps. In other news, Bickman lets Leo know that he isn't performing at a level necessary for surgical residency. Ali, on the other hand, is on her way to becoming a fine surgeon.
Danny Walker sits alone in a living room. When his mother arrives home, he pulls out a shotgun and kills her cold blood. Danny loved his mother. He writes this in his journal claiming he has no control over his emotions. Danny goes to see Dr. Hartramph, who wants to send him to the Cube. That's not going to happen. Voices in Danny's head tell him not to hurt Dr. Hartramph. He sees a vision of his mother. This causes Danny to flee the office.
Danny makes his way onto the roof of the Cube. He sets up a rifle. Several innocent people are eyed up in the scope of his gun. The voices taunt and torture him. Danny takes aim at a group in front of the food truck. One of those innocents in his line of fire is Leo, who ultimately moves out of harm's way. He later admits to Ali that she's his best friend. Then… BANG! BANG! BANG! BANG! Shots ring out from the rooftop. One of those shot in the chaos is Dr. Ian Bickman.
Police storm the roof just as Danny has some sort of seizure. Inside the Cube, Bickman is rushed into surgery and then sent to a room for recovery. Three people are dead and many others are injured. Catherine determines that Danny's tumor is what's causing his rage. The only person who can operate on him is one of those he shot. Bickman removes the tumor but hits a vessel. He's too weak to continue. Leo has to step in to make the fix. Bick later compliments him on his good work.
In random updates, Leo learns that Lina is agoraphobic. That's why she never leaves the Cube. Will finds a pen from Bickman's hotel at Catherine's apartment. Danny wakes up from his surgery having no idea what he's done. He wants someone to call his mom to let her know he's okay. This request really gets to Catherine, who admits to Bick that there's nowhere in the world she'd rather be than in the Cube. The two of them share a long hug.