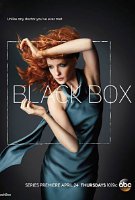 TV Info
---
Episode Premiere
June 19, 2014

Distributor
ABC

Genre
Drama

Show Period
2014 - 2014

Production Company
Bold Films, Sierra-Engine Television


Cast and Crew
---
Director
Bronwen Hughes
Screenwriter
Ilene Chaiken
Main Cast
Kelly Reilly as Dr. Catherine Black
Ditch Davey
David Ajala
Ali Wong
Laura Fraser
David Chisum
Siobhan Williams
Terry Kinney
Vanessa Redgrave as Dr. Hartramph
Additional Cast
Aja Naomi King
Tasso Feldman
Alex Hernandez
Audrey Esparza
Synopsis
---
Frankie Fordham is a high-profile make-up artist who suffers a minor stroke. This incident leaves him colorblind. It has left him joyless. Bickman and Owen are actually joyful that Frankie is a patient at the Cube since he was escorted there by several model companions. Catherine says there are no known treatments for Frankie's condition. That means his career will be over. Catherine gets a helpful hint from Dr. Hartramph an idea of how to help Frankie by using sound to distinguish color.
Award-winning journalist Miranda Archer is hit by a stray bullet in Syria. Bickman is the only neurosurgeon who is allowed to operate. Catherine is called in to help. She realizes that Miranda has a live round of ammunition in her head. It could detonate at any time. No electronics can be near the patient. Bick must literally operate in the dark with no monitors or scans. Catherine offers to assist since she's seen the brain scans. Bick must remove the cartridge with his fingers. He couldn't have done it without Catherine's help.
With the danger of the ammunition removed, Bick embarks on a touchy procedure. Catherine isn't around for this one. She has a previous engagement with her future family. Catherine is nervous about meeting Will's mom and stepdad. She brings some apple pie as a gift without realizing that one family member is diabetic. The dinner conversation is about future family plans.
Catherine excuses herself to give Bick some advice about his surgery. Then she gets some advice from mom about the wedding and just what her son deserves in a wife. This conversation has Catherine envisioning her future as a doting housewife. This has her incredibly nervous about this scenario. Will knows Catherine had a horrible time at dinner. He's also disturbed by the salacious text he receives from Delilah.
Will's evening takes another bad turn when he's called to deal with an incident that went down at the restaurant. Nothing actually happened. Delilah ticked him into showing up there after hours where she's waiting for him in nothing but a bra and panties. Will sends her home after covering her up with his coat. As for Catherine, she joins Bickman on the roof of the Cube. Their conversation is all about how the work they do is incomparable. The chat ends with Bick asking Catherine to join him for a drink at the bar inside the hotel where he lives.