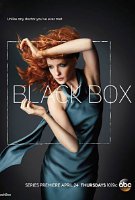 TV Info
---
Episode Premiere
May 08, 2014

Distributor
ABC

Genre
Drama

Show Period
2014 - 2014

Production Company
Bold Films, Sierra-Engine Television


Cast and Crew
---
Director
John Krokidas
Screenwriter
Ilene Chaiken
Main Cast
Kelly Reilly as Dr. Catherine Black
Ditch Davey
David Ajala
Ali Wong
Laura Fraser
David Chisum
Siobhan Williams
Terry Kinney
Vanessa Redgrave as Dr. Hartramph
Additional Cast
Aja Naomi King
Tasso Feldman
Alex Hernandez
Audrey Esparza
Danielle Garcia-Lorido
Erin Darke
Bruce Altman
Synopsis
---
Will is understandably upset that Catherine cheated on him in San Francisco, but he's glad that she told him the truth. After he gets a rundown of all the meds Catherine takes, Will admits that he was unfaithful, too. He slept with Delilah, the hostess at his restaurant, in retaliation for her betrayal. Catherine confronts Will about the bombshell he dropped my giving him a passionate kiss in front of the hostess. It's like she's marking her territory.
Gabriella Mozza is a huge opera star. Bickman saved her life at a restaurant. The pregnant woman hit her head so she's admitted to the Cube. Bickman operates on Gabriella's brain bleed. He gets into a physical confrontation with Dr. Pratt, head of obstetrics, during the surgery. Bickman boots the guy out of the OR. This incident is noted for Lina's test to determine if the guy is the brilliant neurosurgeon is a functional psychopath. As for Pratt, Bickman calls him back in to do an emergency C-section when things start to go south. When the OB doesn't respond to his page, Bickman does the procedure himself.
Catherine treats a woman, Mona Temko, who is about to turn 50. The patient's visual perception is causing her to see things with an obscured view. She stumbles back into the hospital in a disoriented state asking Catherine for help. It is determined that Mona has lost perception of the left side of her world yet she's unaware of its absence.
Catherine is surprised to learn that her patient knows Dr. Bickman through his volunteer work at homeless shelters. This conversation actually leads her to believe Mona has tuberculosis. When the patient takes a turn for the worse, Catherine and Bickman must treat for the affliction even though they don't have confirmation on the diagnosis. It turns out to be a good call. Mona improves.
Anna and Claire suffer from LBD, or Lesbian Bed Death. That's when their sex life ceases over the course of a long term relationship. This changed after Anna had a head trauma. They started having hot sex. The problem is that Anna has a condition that has her believing that she's cheating on her wife. She believes the woman who is actually Claire is, in fact, an imposter. It's a condition known as Capgras Syndrome. Ali figures out a way to solve both issues. Catherine is impressed that she came up with a solution to a problem that is not yet curable. It's a rare skill.
Catherine sees Delilah getting lunch at the food truck parked outside her offices. She doesn't believe this was an accident. She confronts the young woman about what's happening. Delilah's taunting of how she had repeated sex with Will causes Catherine to smash her lunch all over her. It's a messy scene. Catherine warns Delilah to stay away. This leads to an emotional exchange at home. Will assures Catherine that he's not going anywhere. They love each other. This is why Will presents the engagement ring he bought for Catherine to her again.
Reagan is allowing Catherine to see her daughter so that Esme can make her student film. There are conditions though. Reagan wants Catherine to make an effort to show that she's Esme's only mother. Her wishes are carried out. Still, there's no getting around the biology of the situation. While viewing a cut of Esme's film, Reagan notices that Catherine has the same nervous habit that her daughter has exhibited.