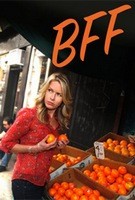 TV Info
---
Episode Premiere
April 18, 2012

Distributor
NBC

Genre
Comedy

Show Period
2012 - 2012

Production Company
Universal Media Studios, American Work. St. Clair


Cast and Crew
---
Director
Fred Savage
Screenwriter
Donick Cary, Anthony King
Main Cast
Additional Cast
Synopsis
---
Lennon is staining a wood trophy case that she is making for Joe's father's retirement gift when Jessica comes running in. She tells Lennon she needs to stop what she's doing because there is an awesome sappy movie on Lifetime. Lennon would love to watch; she loves Lifetime movies, but she needs to finish the gift for Joe's dad before they get back from the theater. "Joe's dad is going to get a total retirement boner for this," Jessica says, but also thinks Lennon is getting a little OCD on trying to please Joe's parents. Lennon thinks Joe's mom hates her, so she's going out of her way to gain her respect.
A knock on the door sends Jessica and Lennon into a frenzy; Joe and his parents are back from the theater early. They keep the door locked and tell them it'll be a minute as they franticly try to clean up the living room. Jessica has her laundry all over the place and Lennon needs to hide the gift. As they're about to open the door, Jessica tells Lennon that her areolas are showing, she's not wearing a bra! Jessica acts quickly and tries to give Lennon her bra, but then Joe uses his keys and as his parents enter, they catch Lennon and Jessica in an awkward bra exchange pose.
Jessica regales Joe's parents, Don and Marilyn, with the sad story of her divorce while Lennon fights with Joe on not giving her warning that they were coming up. Joe tells Lennon to calm down; she has beautiful areolas that his parents would be proud of, and any mess in the apartment can easily be blamed on Jessica. Later, Marilyn thanks Lennon for getting them theater tickets, but felt they were a tad too far from the stage. As Don heads for the bathroom, Lennon shows Marilyn the basketball she got for his gift with Patrick Ewing's signature and the trophy case she handmade. Marilyn shrugs and says it really doesn't need a trophy case.
"Hey, sweet nuts. When are you going to tell your parents you quit your job?" Lennon asks Joe who quickly tells her never. Lennon says he has to tell them because Marilyn already doesn't like her and will think it was all her idea. "Lennon, my mother doesn't like anyone. She only warmed up to me in my late 20s," Joe reassures her, but Lennon is determined to win his mother over. Joe tells Lennon the best and only way to win over his mother is if she "breaks out those sweet areolas again. Best in Brooklyn." Lennon playfully tells him to leave, and she'll meet everyone at the hotel after she finishes doing everything on Marilyn's to-do list.
"This women is a piece of work," Jessica tells Lennon as they go through Marylyn's lengthy to-do list for Don's surprise retirement party. They decide to work together in order to get everything done on time. "She hates everything about you," Jessica tells Lennon, "but after we are done with her list, she's going to love ya!" Lennon thanks Jessica for the words of encouragement and returns the favor by telling her she needs to open her mail. Jessica looks over at the pile of her mail with trepidation; "there's scary stuff in there." Instead of opening the mail and dealing with her divorce, Jessica would rather make cinnamon rolls to eat away her sorrows.
Later in the day, Jessica has finished cleaning up the apartment and doing her laundry when she finally decides to face the pile of mail before her. She opens up one letter when she's suddenly distracted by a moving van unloading furniture outside the apartment. Jessica realizes that it's her furniture on the street and begs the moving company to load it back up and come another day. The mover says they called nine times but Jessica never checked her voicemail. Lennon arrives to find Jessica freaking out, and as they try to go back inside the building, they realize Jessica locked them out of the apartment!
Jessica tries to organize all of her belongings on the street while Lennon calls a locksmith and Queenetta sits and relishes in Jessica's misfortune. Lennon is worried as she needs to be at Don's retirement party with the signed basketball but she's locked out. Suddenly she realizes an apartment window might be open and runs to climb the fire escape. Jessica begs Lennon to get down, as she's too old to climb up, when Lennon suddenly realizes she is caught on a piece of metal. As Lennon hangs dangling from the fire escape, Jessica runs for help to the closet fire station. But first, Jessica has Lennon check her outfit just in case she runs into a cute fireman.
Jessica returns to the fire escape with a butch women firefighter who is able to successfully hoist Lennon out of her predicament. Suddenly the fire fighter smells smoke and Jessica remembers she left cinnamon rolls baking in the apartment. They break in and spray- foam the kitchen to stop the fire from spreading. Lennon is in shock as she looks at her trashed kitchen and notices Don's present is ruined. "WE are not going to do anything, Jessica," Lennon sternly yells, "I needed you to show up for me today, and you didn't do it." Lennon tells Jessica that she needs to go deal with putting her own life back on track before she tries helping others. "I cannot do anything right today!" Jessica screams as Rav shows up to help calm her down. She was trying to forge the signature of Don's favorite player only to realize when it was too late she accidently wrote her ex-husband's name on the basketball instead. When Rav notices the kitchen covered in foam, the boxes on the street and the smell of smoke, he agrees with Lennon's assessment that Jessica is the worst friend ever. "I get it!" Jessica screams in one big breath; she needs to deal with putting her own life back on track. She's been purposely avoiding all of it because if she deals with her life, it means it's real and her marriage is truly over, and she's really crashing on her best friend's boyfriend's blow-up mattress - not exactly how she thought her life was going to be.
Lennon arrives, apologizing to Marilyn for being late, and tells them about the mishap with Don's gift. Joe tells her it doesn't matter; when his dad found out about the surprise retirement party, he went into the bar and is refusing to come out. Marilyn then erupts that the whole night is ruined because of all their screw-ups, but Lennon stands up for herself and fights back for all the hard work she's has done to please her. As Marilyn is about to yell back, Joe seizes on the opportunity and reveals to his mother that he quit his job. "Everybody seems to be doing exactly what they want to do," Marilyn angrily says, "so I'm going to the hotel gift shop to spend 300 dollars on scented candles."
Lennon sits next to a melancholy Don at the bar. She gets him to open up about how he hates the idea of being retired. "I missed one day of work in 33 years," Don proudly tells Lennon. Now he has no idea what he's going to do with himself. "There's an opening with my jazz tap fusion class," Lennon jokes, successfully gaining a smile from Don. She tells him about the present she got him and the cinnamon roll mishap that befell it. Don is impressed and agrees to head into his party for Lennon and all of her hard work.
Don is at his retirement party when Curly from the Harlem Globetrotters enters looking for him. Jessica was able to wrangle this famed basketball player as a retirement gift for Don. "We wish you a happy retirement; this is only the beginning," Curly tells an overjoyed and grateful Don. "How did you make this happen?" Lennon asks Jessica as she thanks her. Then Marilyn walks over and gracefully thanks Lennon for getting Don away from the bar and into his own party. "I'm very, very appreciative."
Lennon is leading her jazz tap fusion class to the music of C&C Music Factory when we find Don as one of the participants. He sweats to the music and he dances his heart out.