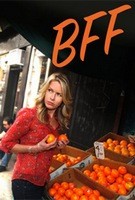 TV Info
---
Episode Premiere
April 04, 2012

Distributor
NBC

Genre
Comedy

Show Period
2012 - 2012

Production Company
Universal Media Studios, American Work. St. Clair


Cast and Crew
---
Director
Fred Savage
Screenwriter
Lennon Parham, Jessica St. Clair
Main Cast
Synopsis
---
"My marriage is falling apart," Jessica tells her best friend Lennon over a computer video chat. Jessica is living in San Francisco with her husband while Lennon is in New York City living with her boyfriend Joe. Jessica reveals she got an extreme bikini wax to surprise her husband when he arrives back from a business trip, but Lennon and Joe think some men prefer a "natural women." Suddenly Jessica screams in panic as she answers her door to discover her husband FedEx-ed divorce papers. Worst of all, he sent them two-day ground instead of priority overnight. "You're coming home tonight. I'm buying you a ticket to New York," Lennon tells Jessica as she watches her best friend break down in sobs.
"I used to be fun," Jessica sobs as these two best friends have a heart to heart on Lennon's couch in New York City. Jessica thinks her husband is cheating on her with the girl from the Lisbon office that has short bangs, knee high socks and Mary Janes. "Well that is not a professional look," Lennon tells Jessica in an attempt to comfort her. Then the distracting sound of ruffled plastic brings Jessica's attention to Joe, who is listening to their conversation seated in his large plastic blow-up chair. He tries to give comforting advice to Jessica, but she feels he's just being obtrusive. Jessica loudly whispers to Lennon and asks if Joe could leave the apartment; perhaps he could crash at a bus station?
Lennon tells Jessica that they will make up the bed in her old room and they can sit on a couch all weekend and watch "Steel Magnolias." Joe quickly interjects; that plan completely ruins their previous plan of having lazy Sunday. Jessica is taken aback that Lennon has lazy Sunday with Joe because it was a tradition they started together. "Is it still a culinary experience?" Jessica nervously asks, "because when I was in charge it was a trip around the world for the taste buds." Joe tells Jessica he's making his monster chili with monster energy drink and scoops: miniature tortilla bowls designed by genius scientists to convey the maximum amount of desired dip to chip.
When Lennon leaves the living room, Joe rushes up to Jessica and whispers he needs lazy Sunday to go on as scheduled because he's planning something special for Lennon. She asks what he is planning, but Joe refuses to divulge the secret. Jessica is reluctant to help at first, but she finally relents after Joe's pleading. Joe tries to thank Jessica by going in for a hug, but she quickly tells him to back away; they're not at the hugging stage of friendship yet.
Lennon thanks Joe for giving up his office so Jessica will have a place to sleep. Joe is just scared that Jessica will touch something on his desk and ruin his homemade computer game that he's been working so hard on. He shows Lennon design concepts for "Fatal Blowout" and she loves it. "Thanks for giving me those great boobs," Lennon excitedly tells Joe as she sees an early design of the character that's based on her. "You actually need them to balance out your crossbow," Joe tells her.
The next day, Lennon and Jessica leave the apartment to get groceries for lazy Sunday and find their nine-and-a-half-year-old next door neighbor Queenetta sitting on the apartment stoop. "Look who's back, but I think we all saw this coming," Queenetta says to Jessica with sash. Jessica and Queenetta don't have a rosy relationship, and they throw insults back and forth at each other. "You gotta put some work in if you want to keep your man," Queenetta tells Jessica as she points out her unfashionable baggy khakis.
"Don't you worry about it, sweetheart," Angelo the butcher tells Jessica as she samples his meats. "You get back to your fighting weight, get out of them khakis and you'll be beating them back with a stick." Jessica starts freaking out that she needs to start worrying about her appearance again now that she's getting divorced. "I don't even have any good underwear. I'm wearing bathing suit bottoms right now!" To cheer Jessica up, Lennon spontaneously decides to cancel Joe's chili for lazy Sunday and help Jessica cook a Mediterranean feast with her famous lamb shanks. "The ladies are back!" Jessica screams in excitement.
Jessica calls Rav over as she sits at his bar. He thinks she wants him to apologize for punching out her husband three years ago, but Jessica really just wants to get the gossip on Joe. She found an engagement ring hidden in Joe's desk when she was unpacking her luggage and believes Joe will propose to Lennon on lazy Sunday. She doesn't think he's right for her best friend and wants to find a way to stop the engagement. Rav tries to tell her that Joe and Lennon are fantastic for each other and maybe Jessica is not the best judge of character since her marriage is spiraling to a divorce and she forgot to wear a bra. Jessica quickly covers up her chest in embarrassment, but she still feels she knows what's best for Lennon.
Joe arrives back home from running errands for the ladies and finds they completely rearranged the apartment, even deflating his beloved blow-up chair! Joe is livid as he starts fighting with Lennon about how Jessica is ruining all their plans. Lennon yells at Joe and asks what he would like her to do; she can't kick her best friend out on the street. Lennon then erupts at Jessica for causing all of this animosity between her and Joe. Since Lennon can't make both of her best friends happy, she cancels lazy Sunday in an erratic fit of rage.
"I always said Joe was a ticking time bomb," Jessica tells Rav outside his bar. Rav figures out that Jessica is acting so spastic lately because she's afraid of losing Lennon just like she lost her husband. "You're never gonna lose her," Rav tells Jessica. "You guys have been obsessed with each other since freshman year when you both realized you had Hugh Grant's haircut from 'Four Weddings and a Funeral.'" He tells Jessica that Lennon has found someone else that makes her happy, and Jessica needs to make room for him.
Jessica arrives home to find Lennon feverishly trying to make ground beef out of lamb shank with a cheese grater in an attempt to salvage Joe's chili. "Drop that meat!" Jessica tells Lennon as she apologizes for the way she's been behaving. She promises to set things right and get lazy Sunday back on track. Later, Joe walks into the kitchen to find Jessica re-blowing up his chair, and Lennon cooking his chili. "Homemade scoops? This is the nicest thing anybody has ever done for me," Joe says as he apologizes for his earlier actions. "I just need to learn how to share you," Joe says as he gives a thankful nod to an out-of-breath Jessica for blowing-up his beloved plastic chair.
As lazy Sunday dinner starts to wind down with Jessica, Rav and other friends, Joe grabs everyone's attention and stands up in front of Lennon. He praises Lennon and tells everyone how lucky he is that someone so caring actually loves him, "which is pretty much the most amazing thing that's ever happened." As Jessica anticipates Joe asking for Lennon's hand in marriage, he surprisingly pulls out two airline tickets instead and asks Lennon for the honor of traveling with him to the William Wallace Memorial in Scotland. Lennon jumps up in excitement, and they both start to recite quotes from "Braveheart." "Is that it?" Jessica asks. "What do you mean is that it?" Joe asks. "We're going to Scotland to see where Mel Gibson got his guts torn out!"
Jessica grabs Joe by the arm and drags him into the bathroom. She asks when he's going to propose, but he has no idea what she's talking about. Then Lennon barges into the bathroom to find out what's going on. "Are you guys going to get married or what?" Jessica asks as Joe acts dumbfounded. Lennon answers yes, but not right now. "I want to be with you forever," she says to Joe, as he happily smiles back. "What about the ring?" Jessica asks. Joe reveals that it's just a memento he bought from their first date at Medieval Times. "It was so awesome, a live falcon landed right on my arm," Lennon happily reminisces with Joe. "You two really are perfect for each other," Jessica reluctantly admits as the three of them embrace in a hug.
Later at night, Lennon and Jessica sit in bed talking about the ring from Medieval Times when Joe suddenly walks in naked! "What are you doing in here!?" Joe screams at Jessica as she freaks out about seeing him naked. He quickly runs out of the room as Jessica yells, "It's worse from behind!"