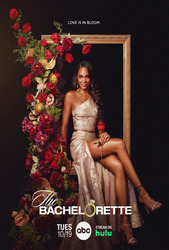 TV Info
---
Episode Premiere
June 13, 2011

Distributor
ABC

Genre
Reality, Romance

Show Period
2003 - now

Production Company
Next Entertainment, Telepictures Productions


Synopsis
---
It was a rough week for Ashley last time around. Now that masked man Jeff and bad boy Bentley have gone bye-bye, it's time for a fresh start... in Thailand!
BThe Thai That Binds

Not even the beautiful beaches of Phuket can keep Ashley from thinking of Bentley. Fortunately, she has 12 hot guys to keep her mind occupied. Constantine scores a one-on-one date that's supposed to take place on a private beach. Poor weather conditions put the kibosh on that idea. That's fine. Even in the rain, there's still a lot to do in Thailand.
Charlie Sheen Would Disagree

Ashley and Constantine chat with a Thai guy who has been married for 36 years. The man says the key to a successful relationship is to forgive and forget. He also believes that love is not about "winning." Normally we'd say that's good advice, but Constantine is in competition with a bunch of other guys trying to capture Ashley's heart.
A Good Con Man

The rain subsides by the time night rolls around. A nice dinner on the sand has Constantine admitting that he really enjoyed the day even though the weather kept them from doing anything extraordinary. He opens up about the meaningless relationships he's had in the past. The new and improved Constantine is ready to go all the way. Ashley is willing to give him that chance as she gives him a rose.
Helping Hands

Ashley and her group date men (that would be Ben F, J.P., Blake, Mickey, West, Ben C, Nick, Lucas, William and Ryan) head over to the Baan San Fan Orphanage. This community was created to help the children who lost their parents in the tsunami that occurred a few years back. The gang will be painting the building, putting up soccer nets and making this the best place in can be for the kids.
Not Buyin' Ryan

Ryan is the one bachelor who seems to be getting on everyone's nerves. Ben F thinks the guy is constantly "on." Ashley is impressed with the mural Ben creates on one of the walls. She even joins in to help. The group date ends on a high note when the kids arrive to see the results of all the hard work. They love the new bikes, soccer nets and shoes that are waiting for them. All the guys agree this was a very special day.
Getting Carried Away

When night rolls around, Ashley and Ben F have a chat. He feels like she was buzzing around him a little more than usual today. Guess that means she kinda likes him. Guess that's why they share a kiss. Later, Ashley says she's worried about where J.P. stands. Those concerns are alleviated when they share a smooch on the sand. J.P. scoops Ashley up in his arms and carries her away through the rain.
Mr. Wonderful

Ashley is about to award the group date rose until Mr. Wonderful steps in to steal her away. Mr. Wonderful, BTW, is Blake's sarcastic nickname for Ryan. He doesn't say much, but it's enough to tick off the other bachelors. At the end of the day, Ben F gets the group date rose.
Taking Ames

Ashley and Ames have a one-on-one date where he tells her that he's been to Thailand before to attend cooking school. He's a last-minute, spontaneous kind of guy. They kayak through caves and caverns to experience one beautiful scene after another.
Such a Nerd

Ashley believes Ames is potential husband material that she may have overlooked if Bentley boy was still around. A romantic dinner on the sand has them both admitting they are nerds, but in a good way. Ashley thinks Ames is smart, charming, flirtatious and funny. She didn't know much about him before, but she's glad she does now. That's why she gives him a rose.
Come On Get Happy

Ashley knows that West lost his wife a few years back, so she wonders if he's at a point where he's ready to move forward. Lucas has also been married before, but Ashley's chats with him always make her hopeful that the guys are there for her.
Blake gives Ryan the 411 on how his giddy enthusiasm is grating on the rest of the men. The smiling solar energy exec from California is shocked to hear this. Ashley also notices how perpetually happy Ryan is. He claims he can't help it. That's just who he is. So smile!
The Rules Are ... There Are No Rules

Ashley admits that she's still a little hung up on Bentley. It makes her realize that she needs to give the other guys a chance. She wants to break the rules by adding a rose tonight so she doesn't accidentally send the wrong guy home. No prob.
The Rose Ceremony

With the addition of a rose, only one bachelor will be heading home. Constantine, Ben F and Ames are safe after their dates. Here is a complete list of all the men who receive a rose from Ashley:
Ames

Ben C

Ben F

Blake
Constantine
J.P.
Lucas
Mickey
Nick
Ryan
William
After all the roses are handed out, West is the lone bachelor heading out the door. Guess Ashley didn't believe he was truly ready. He'll always have the love he had with his wife to cherish. West says that he is, indeed, ready to move on. It just won't be with Ashley.