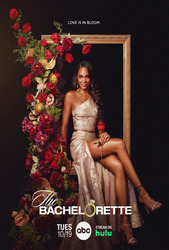 TV Info
---
Episode Premiere
July 12, 2010

Distributor
ABC

Genre
Reality, Romance

Show Period
2003 - now

Production Company
Next Entertainment, Telepictures Productions


Synopsis
---
Roberto's Hometown Visit

Ali is off to the hometown of each remaining bachelor boy. First stop is Roberto's old stomping grounds in Tampa, Florida. He surprises Ali with a date at the baseball field of his alma mater. It's time to play ball as Roberto gives Ali a few pitching and hitting tips. As far as hometown dates go, we have to say Roberto knocked this one out of the park.
Ali is nervous about going to Roberto's house. Some tough questions are forthcoming, as Roberto's dad wants to be sure that both these crazy kids will be able to accomplish all of their goals. In the end, Roberto's family approves of Ali and dad tells son to follow his heart. Just like on the baseball field, this little adventure is a total home run as Ali and Roberto finish off the night with a little dancing.
Chris L's Hometown Visit

Ali heads to Cape Cod where Chris is waiting for her by the shore. He wanted to meet by the beach where he grew up to paint a picture of a possible future there. Chris moved back from New York when his mom got sick and now lives at home with his dad. After initially meeting the family, Ali sees how close Chris is with them. Dad tells Ali about the similarities she's had with his son in life, as Ali had quit her job to be with her grandmother.
Chris is nervous about how accepting his family will be. Ali gets a firsthand look at how just much this family cherishes love. What more could a girl want? The family loves Ali and they all want to see Chris happy. There are blessings galore!
Kirk's Hometown Visit

Kirk's mother and father don't really speak with each other. Uh oh. This leads Ali to believe that Kirk inherited trust issues from his parents. As soon Ali arrives, Kirk's father takes her down to his basement where he does his work - taxidermy. Ali is an animal lover, so this is a totally new experience for her. After Ali gets over the initial shock of the basement, Kirk's dad gives her some guidance about how important it is for her to follow her heart. Another blessing is bestowed.
Time to head over to Kirk's mother's house. Ali meets his grandmother, mom and sister. They click right away and we see no signs of nervousness. Kirk's mom tells the story of the morning he left for California to be on the show. Mom can see how happy her son is and gives Kirk her blessing. He truly values his mother's opinion. This trip has done wonders for Kirk's confidence regarding his relationship with Ali.
Frank's Hometown Visit

We head to the Windy City to catch up with Frank and Ali in Chicago. They tour the town by boat during their date. There's smooth sailing until the reality of the Hometown Visit sinks in and Frank realizes he's in uncharted waters. It's up to Ali to calm his nerves. That's tough to do, as she's already anxious about meeting the family.
After the boat trip, Ali and Frank head over to his house. Ali fits right in with the family. Frank tells his siblings that he's scared. He wonders if his strong relationship with Ali can go the distance. Frank tells his dad about how draining things have been. He definitely has feelings for Ali, but he also feels the pressure of all that's happening. Frank should feel a little relief knowing that his entire family approves of the nice girl he brought home to meet them.
The Rose Ceremony

We head back to Los Angeles for the Rose Ceremony. Ali discusses her visits with Chris Harrison and tells him that she's not ready to send one man home. Nevertheless, the three roses in the episode go to:

Roberto
Chris
Frank