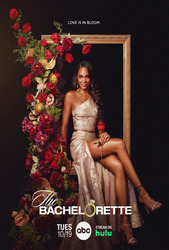 TV Info
---
Episode Premiere
June 28, 2010

Distributor
ABC

Genre
Reality, Romance

Show Period
2003 - now

Production Company
Next Entertainment, Telepictures Productions


Synopsis
---
The episode opens with a surprise visit from Chris. He does not have happy look on his face. Chris asks Ali to take a call from Jessie, a bachelorette from Jake's season. Jessie puts Ali in contact with her friend, Jessica, who says her boyfriend has gone on the show to gain fame. His name: Justin.
Ali confronts Justin immediately. Totally busted, the wrestler grabs his bags and heads for the door. Ali tries to talk to him, but he keeps running (well, hobbling on that busted leg). Justin eventually comes back to chat but can't defend himself. Ali is completely ticked as we bid Justin goodbye and good riddance.
Ty gets the first date, and it's one-on-one. As Ali tries to move past the earlier Justin drama, she and Ty take a tour of Istanbul. They eventually make their way to a traditional bathhouse. As you may have guessed, things get pretty steamy. Back at the hotel, the guys feel that, even though they like Ty, they'd be happy if he followed Justin out the door. But we know how much Ali and Ty are connecting, so it's no surprise to see him get a rose.
Chris L., Craig R., Kirk and Roberto join Ali for the group date. There's a twist that nobody expected. Ali introduces the bachelors to some Turkish olive oil wrestlers. It's a popular sport in Istanbul. The guys must tangle with these slippery fellows to get some one-on-one time with Ali. Hope no one gets hurt...or overcooked!
After a practice round with the pros, the bachelors must wrestle each other. Craig has concerns, as he feels the other men are more athletic. Roberto and Craig make it to the final match. Craig summons all of his strength and determination to beat Roberto and get the girl. It's just like Rocky II! For Craig, oil's well that ends well.
Ali and her slick champ finally get their one-on-one time. Craig feels he's made a connection and is falling for her as they end their night with fireworks over the water.
Ali's next date is a one-on-one with Frank. She feels this is a make-or-break date for him. They get cultured by heading to the spice bazaar. After some wheeling and dealing, they end up bargaining for aphrodisiacs. We can't wait to see what will happen later tonight.
Equipped with a rug, Ali and Frank head to the Basilica Cistern for an intimate dinner. They take off their shoes and cross through icy water to a platform in the middle of the cistern. Ali tells Frank that her relationship with him scares her because of she has no control over others falling in love with her. Frank ensures her that he's ready to trust his heart. Needless to say, he heads back to the hotel with a rose.
Ali has a request this week. She'd like to skip the cocktail party and head straight into the Rose Ceremony. She doesn't see the point of hearing pleas from the bachelors, as she knows where the connections are. This comes as a shock to the guys, but they follow Chris Harrison's instructions and head upstairs. Frank and Ty have are safe. The others who receive roses are:
Roberto

Chris L.

Kirk
Craig R. had his first one-on-one time a little too late. He was up against guys who started making a connection with Ali much sooner. Ali can only tell him the romance was missing. Even though they had a nice night under the fireworks, romantically there just weren't any sparks.
Craig R. says, "I had strong feelings for her. She's like no girl I've ever met before. I wanted to be the one who ended up with her." Unfortunately, we see another heartbroken bachelor head home as the rest of the crew moves on to Lisbon, Portugal.