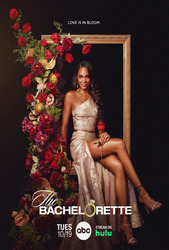 TV Info
---
Episode Premiere
June 14, 2010

Distributor
ABC

Genre
Reality, Romance

Show Period
2003 - now

Production Company
Next Entertainment, Telepictures Productions


Synopsis
---
The guys are psyched to learn they'll be traveling around the world with Ali. First stop: New York City.
Kasey gets the first solo date and he improvises a song about how he wants the rose. He doesn't realize she finds his singing "cheesy." He tells her again, "I'm here to guard and protect your heart," but she's skeptical that it's just a line. She tells him he doesn't seem genuine, and she's not giving him a rose. But, she gives him an unprecedented second chance to stay on and show the "real him."
Roberto, Jesse, Craig, Kirk, Jonathan, Frank and Ty meet Ali on Broadway, where they have to audition for the producer of The Lion King. Roberto wins the date-and an appearance in that night's show! The other men are forced to watch them rehearse and perform live that night.
Ali's under the weather, so Kirk advises her to go to bed early. She announces she won't be giving out a rose tonight and then lets Kirk see her to her room. While the other guys seethe with jealousy, Kirk tucks her into bed and kisses her goodnight.
Chris L. has the second solo date but Ali feels worse than ever, so she has to cancel, even though it's his birthday. But she invites him to spend the day with her in her suite. Chris is happy to provide some TLC and shows up with flowers and soup. She feels well enough now to go on their date as scheduled. Ali surprises him with a phone call to his father-and the rose. The evening ends with a romantic roof-top concert from Joshua Radin.
Meanwhile, a melancholy Kasey sneaks out to get a tattoo of a shield protecting a heart-to convince Ali that he's genuine. It's bandaged so he can surprise Ali, but he tells the other guys that he burned himself. Justin accuses him of lying, so Kasey reluctantly reveals the tattoo. When he sees Ali alone, he apologizes for overcompensating, even though the tattoo he's about to reveal is the most over-the-top thing he's done yet. But just then, Frank comes in, so Kasey doesn't get a chance to show her. Maybe that's a good thing, because Ali prefers his much smaller gesture of bringing her candy.
It's time for the rose ceremony. Ali gives the remaining 8 roses to:
Kirk

Frank
Craig
Chris N.

Roberto
Justin
Ty
Kasey