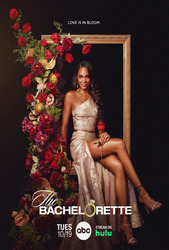 TV Info
---
Episode Premiere
May 31, 2010

Distributor
ABC

Genre
Reality, Romance

Show Period
2003 - now

Production Company
Next Entertainment, Telepictures Productions


Synopsis
---
Frank gets the first solo date with Ali, and the first kiss, which takes place under the landmark Hollywood sign. "I'm already starting to feel something for her," Frank says.
"This night is perfect," Ali says and gives him a rose. Frank confesses it'll be tough to see her with other guys now. Ali tells Frank he's "just what she's looking for and privately, she's surprised by how much chemistry they have.
Meanwhile, back at the house, Craig R. tells Justin that he's not right for Ali, while Craig M. goes after Jesse and Jonathan, whom he keeps calling "Weatherman."
The second date card arrives; Jonathan is not happy to hear that he and Craig M. will both be on the date with 10 other guys. The men join Ali at a Malibu beach house for a 'Sexy Guys' photo shoot for charity.
The men, especially Jonathan, flip out when they see the skimpy briefs they have to wear, but Craig M. is "pumped" for the photo shoot and hams it up for the camera.
Ty reveals he was briefly married, and serenades Ali with his guitar. That earns him the rose, but the scorn of the rest of the guys. Jonathan warns Ali about Craig M. "He's dangerous. This guy is crazy."
The third date card arrives for Jesse. He and Ali jet to Vegas, where they frolic by the pool and then have a romantic evening with a private concert by Jamie Cullum. At the end of the night, Ali gives him a kiss and a rose.
While Jesse and Ali are in Vegas, Craig M. continues to harass Jonathan, but the other men aren't exactly fond of him either. "He's one of the worst people I've ever met. He's an egomaniacal jerk-off," says one of the guys.
John C., Roberto and Chris L. are the only ones who didn't get a date this week, so they catch up with Ali at the cocktail party. Everyone is put off when Frank kisses Ali in full view of the rest of them.
Jonathan tells Ali he had another run-in with Craig M., so she grabs Craig to get his side of things. She's not even sure if he likes her and he does very little to convince her he is interested. She reveals that someone told her he was "dangerous." He says he's been "misunderstood" and hopes for the opportunity to change her mind.
Craig M. guesses it was Jonathan who called him out, so he gathers the other Bachelors to confront him. Jonathan says, "I told you straight to your face I don't like you." Craig continues to push him to admit it, but Jonathan just tells him, "Grow up, man."
Host Chris announces that it's time for the rose ceremony. Frank and Jesse have roses and Ali has 11 more to hand out. She gives them to:

Kasey
Hunter
Roberto
Chris L.

Justin
Steve
Kirk
John C.

Craig R.

Chris N.

Jonathan
Which means that Chris H., Craig M. and Tyler are going home. Craig M. gives Ali a classy goodbye, but to the camera, he says, he "can't respect her" for keeping "the Weatherman," especially since he's shorter than she is. "I hope on the way back home, there's a few attractive women. Because I'm going to need that extra attention." Wow, he really is an egomaniacal jerk-off!