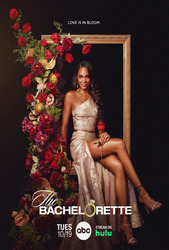 TV Info
---
Episode Premiere
May 24, 2010

Distributor
ABC

Genre
Reality, Romance

Show Period
2003 - now

Production Company
Next Entertainment, Telepictures Productions


Synopsis
---
Ali Fedotowsky is back and this time, love not work, is number one on her agenda. "I definitely have a lot of regret," she says of her decision to leave Jake Pavelka to return to her job -- one she's now quit! "I'm ready to move forward," she swears. "Bring on those boys. I'm excited." She's hoping her journey will end "with tears in my eyes and I'm looking at man down on one knee, asking me to be his wife."
She doesn't have long to wait! On the first night, John C. drops down to one knee and presents her with a cubic zirconium ring!
The first roses of the night are handed to Ali from Chris N. and Kirk.
Jesse asks her, "How do you feel about dating a peculiar man?" because he's from Peculiar, MO.
Frank climbs out of the limo roof and tells her, "For you, I would climb the highest mountain." But he's one-upped by Jason, who does a backflip from the top of the limo!
Also making a lasting first impression Justin arrives on crutches (he broke his ankle two weeks ago) and Hunter, who confesses he has to pee!
Inside, Frank is the first to steal her away for a one-on-one. "I'm a huge risktaker," he tells her. He explains how he gave up a successful career to become a screenwriter.
The other guys are scornful of the scrapbook of his life Kirk made for Ali. Craig M. tells him, "That's weird." Fortunately, Ali finds the book "impressive."
Kasey wants to "guard and protect her." He confesses he's a "mama's boy" and that after his father cheated on his mother, he vowed to never hurt a woman like that.
Hunter busts out a ukelele and sings, "My name is Hunter and I'm 28. Came on the show to find a soulmate..." "I'm going to maybe make an ass of myself, but hopefully stand out as well," he says. Derek is jealous, but Jason decides Hunter is "that nerd who never gets the girl."
Derrick tells her the story behind his nickname ("Shooter"), even though it's really embarrassing. "I might have prematurely, accidentally, in freshman year..." "You are a brave man for telling that story," she laughs.
Craig M. is upset that "motormouth" Jonathan doesn't let him get a word in. He offers Jonathan some unwelcome advice: "Give her some time to speak."
Ali tells Roberto he is "so handsome." He calls her "beautiful" and praises her eyes, then teaches her a few salsa steps. "I am really, really digging Roberto," she says. We're not surprised when he gets the first impression rose!
Chris L. offers her his jacket and tells her she looks "wicked awesome." He's another mama's boy, but doesn't let on that his mother died recently. "That's not a first impression thing," he tells the camera.
"Let's hop outside," Ali says to Justin and he shows her his "Rated-R" shirt, explaining that he's a professional wrestler. When he tells the other guys what he does for a living, Craig M. warns him, "You better sleep with your eyes open." Craig R. tips off Ali (hey, on the first night, is that a precedent?) that some guys aren't here for the right reasons.
Host Chris asks the men, "Write down the name or names of the guy you feel is not here for the right reason." Most men target Justin, although Craig M. also draws a lot of votes. Ali has the choice of sending Justin home immediately, but instead she decides to give him a rose.
It's time for the rose ceremony and Ali gives roses to:

Jesse
Ty
Craig R.

Tyler V.

Frank
Steve
Chris L.

Kirk
John C.

Chris N.

Chris H.

Hunter
Craig M.

Jonathan
Kasey
Which means that Derek, Derrick, Jason, Jay, John N., Kyle, Phil, and Tyler M. are going home.