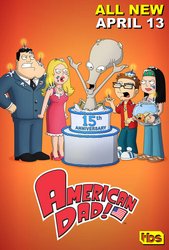 TV Info
---
Episode Premiere
November 27, 2005

Distributor
TBS

Genre
Animation, Comedy

Show Period
2005 - now

Production Company
Fuzzy Door Prod., Atlantic Creative, Fox TV


Cast and Crew
---
Director
Mike Kim
Screenwriter
Chris McKenna, Matt McKenna
Main Cast
Seth MacFarlane as Stan Smith / Roger the Alien (voice)
Wendy Schaal
Rachael MacFarlane
Scott Grimes
Dee Bradley Baker
Additional Cast
Synopsis
---
Steve has Stan sign his report card, and Francine notices that the boy is failing English. Steve claims that his teacher hates him. But a visit with the teacher reveals that Steve is failing because he had his Japanese friend Yoshi write a paper for him. Steve claims that creative writing is hard, so Stan takes him upstairs to introduce him to Patriot Pigeon, the 3,012 volume series that Stan has written.
It doesn't get the creative juices flowing, so Stan glues Steve's hand to the desk, forcing him to write. Seeing Roger on a drunken bender after Klaus told him he's a nobody, not a somebody like the celebrities he loves so much, Steve finally has an idea. At home later, Stan gets a letter from P&Q Publishing. He thinks they want to publish Patriot Pigeon, but in fact, they want to publish Roger the Alien, the story Steve wrote for his class.
Steve has a book signing, which makes Stan's incredibly jealous. But when Francine points out that people will recognize that Steve came from Stan, Stan wants to up the promotion. The publisher says if Steve has the #1 children's book, he can get on the television show Cap'n Monty's Book Cavalcade. But Steve needs a hook for that.
Stan's brainstorm is to make Steve the bad boy of the children's book world. Steve stops eating is vegetables, starts talking to strangers and runs with scissors, which makes him wildly popular in the children's literary world. The book hits #1 and Steve is booked on the show. Meanwhile, at home, Roger finally reads the book and is furious with Steve's portrayal of him.
Steve starts to chafe at the fame. Backstage before Steve's television appearance, an agent tells him how to deal with the pressure of being pulled in different directions by his family. On the show, Steve announces that he's going to divorce his parents. After a quick trial, Steve is free and begins enjoying a wealthy lifestyle, including a pool filled with cherry Jell-o. Roger decides to strike back.
He sneaks into Steve's mansion to kill him. Except he finds the guy who's going to play Steve in the upcoming movie first. Roger scares the actor into the Jell-o pool, then begins freaking out, thinking he's killed him. Realizing things are out of control, Steve goes back to his parents. Who help him hide the dead body.