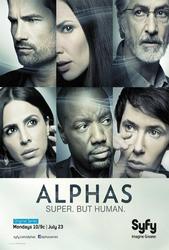 TV Info
---
Episode Premiere
October 15, 2012

Distributor
Syfy

Genre
Drama, Sci-Fi

Show Period
2011 - 2012

Production Company
BermanBraun, Universal Cable Productions


Cast and Crew
---
Director
Nick Copus
Screenwriter
Michael Karnow, Adam Levy
Main Cast
David Strathairn as Dr. Lee Rosen
Malik Yoba
Warren Christie
Laura Mennell
Ryan Cartwright
Azita Ghanizada
Additional Cast
Synopsis
---
INCIDENT REPORT: Secret Red Flag Kidnapping
LOCATION: Midtown Manhattan (MiMA Parking Structure)
DETAILS: The team still hasn't been able to locate Stanton Parish's mysterious shipment of electronic parts and, almost daily, there are new bombings all along New York City's power grid. Plus, all evidence indicates that something big is brewing, but what?
Dr. Rosen realizes that the anniversary of Stanton Parish discovering he's an Alpha is in two days, which means they have very limited time to stop him. Even though things are getting hectic at the office, Dr. Rosen demands that Mitchell, Parish's human memory device, be transferred to a local hospital for further study-an odd and ill-timed request.
Kat volunteers to help John move Mitchell while Dr. Rosen tries to get Bill to sign on to an "unofficial" mission to help move things along. Bill refuses but Cameron and the rest of the team are already in. Later, when John and Kat attempt to transfer Mitchell, Parish's men, including Cornell Scipio, attack the convoy. When the smoke clears, Mitchell is gone and so are all of Parish's men, including Scipio but no one knows where he is.
Parish is reunited with Mitchell only to discover that Dr. Rosen has erased all of Parish's sentimental memories-a huge loss. Since Mitchell still has his ability, however, Parish starts storing memories all over again while he prepares a place for the Alphas injured in his upcoming attack to find shelter.At the office, Bill notices that everyone is missing and Kat decides to check the scene of the convoy attack again. Meanwhile, Gary uses his ability to ping Skylar. When she doesn't respond, Gary becomes more forceful. Skylar seems to be working in peace but when she can't feel a serious burn, she knows that she is being held against her will. She reaches out to Gary who recruits Bill to help save her. Once they get Skylar, she tells the team what she was building for Parish: millions of tiny photic stimulators. They will increase the abilities of any Alphas within their blast radius but they will also kill any regular humans. Millions will die unless the team can stop the devices. And soon.
Dr. Rosen, Cameron, Nina and Rachel all confront a captured Scipio and attempt to interrogate him but find the task is too difficult. They even restore to outright torture, forcing Scipio to burn his own flesh, which makes Rachel more than a little uncomfortable. She betrays the team by calling Bill.
Before Bill can stop the interrogation, Dr. Rosen and Cameron run off to try and catch Parish but when they find the blueprints for the attack, Dr. Rosen sends Cameron back while he tries to stop Parish alone. Unfortunately, Dr. Rosen is discovered and shot in the process. Can he survive long enough to make a difference?