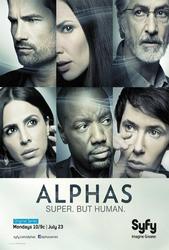 TV Info
---
Episode Premiere
August 13, 2012

Distributor
Syfy

Genre
Drama, Sci-Fi

Show Period
2011 - 2012

Production Company
BermanBraun, Universal Cable Productions


Cast and Crew
---
Director
Omar Madha
Screenwriter
Adam Levy
Main Cast
David Strathairn as Dr. Lee Rosen
Malik Yoba
Warren Christie
Laura Mennell
Ryan Cartwright
Azita Ghanizada
Synopsis
---
INCIDENT REPORT: Robbery by Hallucination
LOCATION: Liberty Citizens Bank, 43rd Street, Manhattan
DETAILS: When Dr. Rosen hears about a rash of robberies perpetrated by people who are completely delusional, he naturally suspects Nina who has been out of touch since she abruptly left the team.
It turns out that Nina and Tommy, her childhood boyfriend, are living a borrowed life as a result of Nina forcing everyone around them to give them exactly what they want. Dr. Rosen and the team decide to intervene on Nina's behalf before Agent Cley gets wind of it and tries to imprison or kill her.
It doesn't take long for Cameron, her ex-boyfriend, to track Nina down but when she "pushes" both Rachel and Cameron without remorse, the stakes are raised. Little do they know that Nina is reliving a tumultuous early childhood that ended badly. When she was just a kid, Nina "pushed" her father into staying home when he really wanted to leave. The result? He killed himself, scarring Nina for life.
Dr. Rosen, it seems, is scarred as well. He sees Nina's current bad behavior as a reflection of his failure as her therapist. A mistake he refuses to repeat with Kat, the newest member of the Alpha Team.
With Gary's help, Bill and Cameron locate Tommy's wife, who acts very strangely when confronted about Tommy's whereabouts. Her behavior is not much unlike Dr. Rosen's when confronted by Agent Cley about progress on apprehending the
Building 7 escapees. Oddly enough, Dr. Rosen lies to Cley about making progress in order to devote more resources to finding Nina, but then he abruptly tells the team to forget about Nina and move on. Confused by his actions, Rachel uses her powers to discover that Nina tampered with Dr. Rosen's mind.
Gray tracks Nina and Tommy down to a nearby yacht and the team is able to apprehend Tommy, but not Nina. After they take Tommy into custody, however, they know that Nina will come for him. When she finally does show up,controlling everyone she meets, Dr. Rosen has a surprise for her: He's reunited Tommy with his family, which has broken Nina's mental hold on him.
Crushed at her loss, Nina makes a run for it (with Cameron's unwilling help) but when Dr. Rosen catches up and finally gets through to her, she tries to commit suicide. Luckily, Cameron is able to save her life and Dr. Rosen starts all over with his attempts to rehabilitate Nina. When Agent Cley finds out, naturally tensions rise between him and Dr. Rosen.
Meanwhile, Kat (the young Alpha that Bill met at fight club) has begun working with Dr. Rosen to explore her abilities, Rachel puts John on the spot about why he won't date her and gets more than she bargained for in reply, and Gary tries to adjust to living in the office without losing his sense of scheduling.