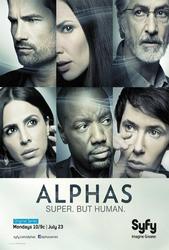 TV Info
---
Episode Premiere
August 06, 2012

Distributor
Syfy

Genre
Drama, Sci-Fi

Show Period
2011 - 2012

Production Company
BermanBraun, Universal Cable Productions


Cast and Crew
---
Director
Nick Copus
Screenwriter
Eric Tuchman
Main Cast
David Strathairn as Dr. Lee Rosen
Malik Yoba
Warren Christie
Laura Mennell
Ryan Cartwright
Azita Ghanizada
Synopsis
---
INCIDENT REPORT: Murder by Alpha
LOCATION: Hospital Morgue, Manhattan
DETAILS: Jack Duffy, another Building 7 escapee, has been murdered. No easy feat since Duffy was capable of generating electricity in his hands-a very powerful weapon. Using her keen senses, Rachel is able to detect that Duffy was defeated, in part, by some kind of acid venom that was spit into his face. She also finds a lead: a phone number written on his hand that leads the team to a secret underground "fight club" for Alphas.
To maintain his cover, Bill is forced to fight and gets beaten badly but afterwards Kat, an energetic young Alpha with no long-term memory, offers to train him. Through Kat, Bill learns to access his Alpha power without straining his heart and he returns to the fight club as a force to be reckoned with. That is, until Kat uses her own Alpha abilities to beat him. Even so, it seems like Bill is unlikely to give up his new stress reliever: Fighting.
Meanwhile, Rachel and John, the new tactical team leader, get off to a rocky start but things between them progress quickly and Rachel eventually asks him out. Unfortunately, John doesn't think that dating in the workplace is a good idea.
While Rachel and John try to find a happy medium, Gary and his mother have reached a bit of an impasse. Since Gary has taken to screaming every morning, which drives his mom crazy, Dr. Rosen steps in. Rosen talks to Gary about it and Gary, ever perceptive, decides to take the same advice that Dr. Rosen gave Rachel about her meddlesome family: Moving out. It's a tough decision for his mother to swallow but Gary ultimately moves into the Alpha Team office to exercise his independence.
Gary's increased presence is certainly welcome to Dr. Rosen who needs Gary to help track down the immortal Stanton Parish. What Gary discovers is critically important: He finds the name of the doctor who once treated Stanton Parish a lifetime ago. Armed with this Intel, Dr. Rosen visits the hospital where the doctor worked and gets lucky: The doctor's records are still there. Dr. Rosen reads everything in the reports and learns quite a bit about Stanton Parish's early life, including the fact that Parish killed the doctor in order to preserve his secret. Dr. Rosen barely completes his research before Parish surprises him by stopping by for a one-on-one conversation.
When some shady characters kidnap Kat, Bill and the rest of the Alpha Team fall into pursuit. Once she's taken to a secret laboratory to be experimented on, they have to move fast to save Kat. In the process they find the acid-spitting killer they've been looking for all along is already dead-killed by the lab's evil doctors.
Once Kat recovers, she guesses that Bill and his co-workers are part of a secret Alpha-powered team and begs Dr. Rosen to join, something Dr. Rosen may have to consider later, but not today.