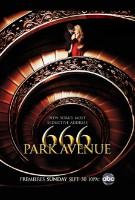 TV Info
---
Episode Premiere
October 28, 2012

Distributor
ABC

Genre
Drama, Horror, Sci-Fi

Show Period
2012 - 2013

Production Company
Alloy Entertainment, Warner Bros. Television


Cast and Crew
---
Director
Robbie Duncan McNeill
Screenwriter
Sonny Postiglione
Main Cast
Additional Cast
Enrique Murciano
Ursula Parker
Tessa Thompson
Heidi Armbruster
Synopsis
---
October 31, 1929. Peter Kramer, a resident of the Drake, listens to another resident, Lyle Atherton, talk about a strange ritual was supposed to bring them great wealth. He says they have let evil into their homes by partaking in this ritual. Peter arrives in his apartment to let his wife know that she will be truly happy in heaven just before bludgeoning her to death.
The woman's screams are heard by her daughter, Jocelyn, who hides under the bed with her doll. We recognize this little girl as the one who has been seen by Jane in her visions. Jocelyn's dying mother manages to hand her a piece of jewelry that looks a lot like Jane's grandmother's necklace. She tells her daughter to keep it in the family. In present day, the Drake is being prepped for a big Halloween party. Amazingly, one of the people seen walking through the lobby is Peter Kramer, looking as young and as menacing as he did in 1929.
Henry is the man of the hour after his heroic actions at the mayor's house in "Hero Complex." He does a TV interview where he's labeled as being one of New York's most eligible bachelors. He apologizes to Jane for the misinformation that went out over the airwaves just as media consultant Laurel Harris approaches them. The woman wants to take Henry's 15 minutes of fame to the next level.
Brian comes home to find a strange man massaging his wife's bare belly. The guy's name is Scott. He's a doctor who lives in the building. He made a house call to tend to Louise's strained abdominal muscle. Louise plans to set up this hot doc with her new assistant. She's also popping pain pills behind closed doors. As for Brian, he's uneasy to learn that subject of his many window leers will be attending the big bash as a sexy nurse. He lightens up when Alexis apologizes for kissing him. She also spills the secret that hot doc Scott has seen Louise lots of times. This is news to Brian.
Gavin receives an ominous text message stating that he will pay for everything that he's done. He then realizes that a black truck with darkened windows is barreling down the street towards Olivia, who manages to dart out of the way at the last second. Moments later, Gavin receives another text. It reads: "Just thought I'd introduce myself. Next time I won't miss. See you tonight.
Jane and Henry are provided Halloween costumes by their ever-generous employers. He's the new sheriff in town while she looks a lot like Tippi Hedren in The Birds. It's a little tribute to the experience Jane had in "Murmurations." They are joined in the elevator by Peter Kramer, who can't take his eyes off the necklace around Jane's neck. Peter heads down to the basement where he tells a photo of his family from 1929 that he has to finish things. This is just before he takes hold of a sharp axe in his hands.
There's a lot happening at the Halloween party. Brian seems satisfied with Louise's explanation about seeing Scott, who gets hot and heavy with Alexis in the hallway. The doc has no idea the sexy nurse who is seducing him has swiped his cell phone. Elsewhere, Henry is approached by Laurel Harris, who thinks he and Jane should tied the knot sooner rather than later since New York changes people.
After a drink is spilled on her costume, Jane heads back to her apartment to change. Jocelyn is waiting for her there. A tear of blood streams down her face as she says her daddy got out. Jane discovers a newspaper clipping in the lining of the suitcase she found in the basement. She recognizes the man in the photo, but has no idea he's standing right behind her with a hatchet in his hands.
Many things happen all at once in different sections of the Drake. Louise makes doc Scott believe she's in serious pain so he'll score her some pills. Brian catches sight of the two of them heading off in the elevator. Olivia is rendered unconscious by a man in a gas mask in the hallway outside Peter Kramer's apartment. Gas mask man then cuts the buildings power as Jane is attacked by Peter Kramer and Louise is trapped in the elevator with Scott. As for Jane, she's chased down the hall by Peter, who takes his hatchet to the back of an innocent bystander. Blood pours from his body onto the hallway floor.
Jane temporarily escapes Peter Kramer's clutches via a dumbwaiter. She calls Henry, who is accompanied by a frightened Laurel. Peter breaks into the empty apartment where Jane is hiding. He claims he's trying to save her as he raises his hatchet. A bird suddenly attacks the guy allowing Jane to escape into Henry's arms.
Alexis assures a way-drunk Brian that nothing is going on with Louise right before she sends a sexy text to her boss using Scott's phone. The doc realizes that Louise is using him for pills. She used to be an addict. She's also ticked at Scott for making a move on her. She loves Brian, who begins to doubt his wife after seeing the "sext" message on her phone.
Gas mask man breaks into Gavin's wall safe to steal a mysterious box. He hangs an investigating Tony by the neck before making his escape. Gavin saves his doorman's life and is relieved to see that Olivia is safe on their terrace. He's also very disturbed that the mystery box is gone.
Power is restored to the Drake. Jane tells the police she didn't get a good look at the killer's face. Brian decks Scott when he steps out of the elevator with his wife. Gavin assures the mystery person who stole his box that he's coming for him. There's no trace of any murders as the dead bystander's body disappears along with the hatchet and the bird. Gavin places his thief's gas mask in his wall safe. In another part of the Drake, Jane clutches her grandmother's necklace which we now know is the same one that was worn by Jocelyn Kramer's mother. Somehow she is connected to this family.