The Swedish model poses on bed without a single piece of clothes on while taking a selfie in front of mirror.
Elsa Hosk
has set her Instagram followers' pulse racing before going to bed. Apparently wanting to greet her fans good night, the 29-year-old model took to her official account to share a very NSFW picture on late Wednesday night, February 21.
The Victoria's Secret Angel went completely naked while sitting on a bed in what looks like a hotel room. She only used her hand to cover her breast and placed her leg strategically to keep her modesty while her other hand held her phone to take her selfie in front of a mirror. She added a teaseful caption, "R u sleeping?"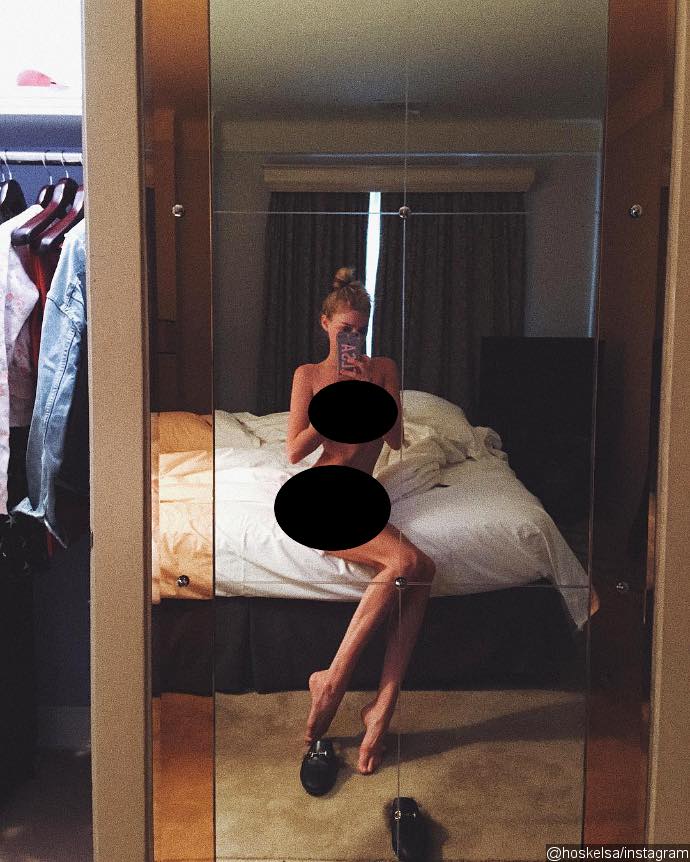 The comment section was soon flooded with a lot of gushing reactions. "why u r so beautiful," one fan marveled at her beauty. "Perfection! Love to join you on that cozy bed!" another follower praised her. Another commented, "Being so hot, you will never catch a cold!"
However, there were still some others who shamed her for sharing the racy shot. "She is role model for very young girls and maybe boys. So what you bring in this world? Get naked in front of million ppl? I think ppl with such amount of followers have to be checked for having brain," a hater wrote. Another harsh comment read, "What r models coming to tho? Posting nudes ?..."
It's suffice to say, though, that Elsa was never brought down by such hateful comments. A model for the famous lingerie brand, she has taken part in a lot of sexy photo shoots for the company and frequently shared her sexy pictures.
Back in October, the blonde beauty also posted on her social media account two
topless pictures
of hers. She stripped down to nothing but white panties, using her hands to cover her breasts while flaunting her toned abs. The photos were apparently taken during a photo shoot for Victoria's Secret as she captioned them with "All day lolz with my fam today @victoriassecret."