The 37-year-old mother of three draws speculations that she's spending time with the teen girlfriend of her sister Kourtney's ex after sharing this photo.
It looks like
Kim Kardashian
has been hanging out with
Scott Disick
's girlfriend
Sofia Richie
, but does
Kourtney Kardashian
know about this? Kim sparked speculations that she'd spent time with the teen girlfriend of her older sister Kourt's ex and baby daddy after sharing on Instagram Stories a photo of Scott's puppy.
Posted on February 20, the snap showed what looked like a girl's hands, presumably Kim's daughter North's or Scott's daughter's Penelope's, cuddling the adorable pup. While the picture didn't reveal much, it rose questions whether or not Kim's been spending time with Sofia as the 19-year-old model recently posted photos and videos with the same pooch.
Sofia debuted the pet on her Instagram account and captioned the snap, "Our newest family." The caption made it seem like the pooch is hers and Scott's, though the model has said that the cute pup is her boyfriend's and his daughter Penelope's.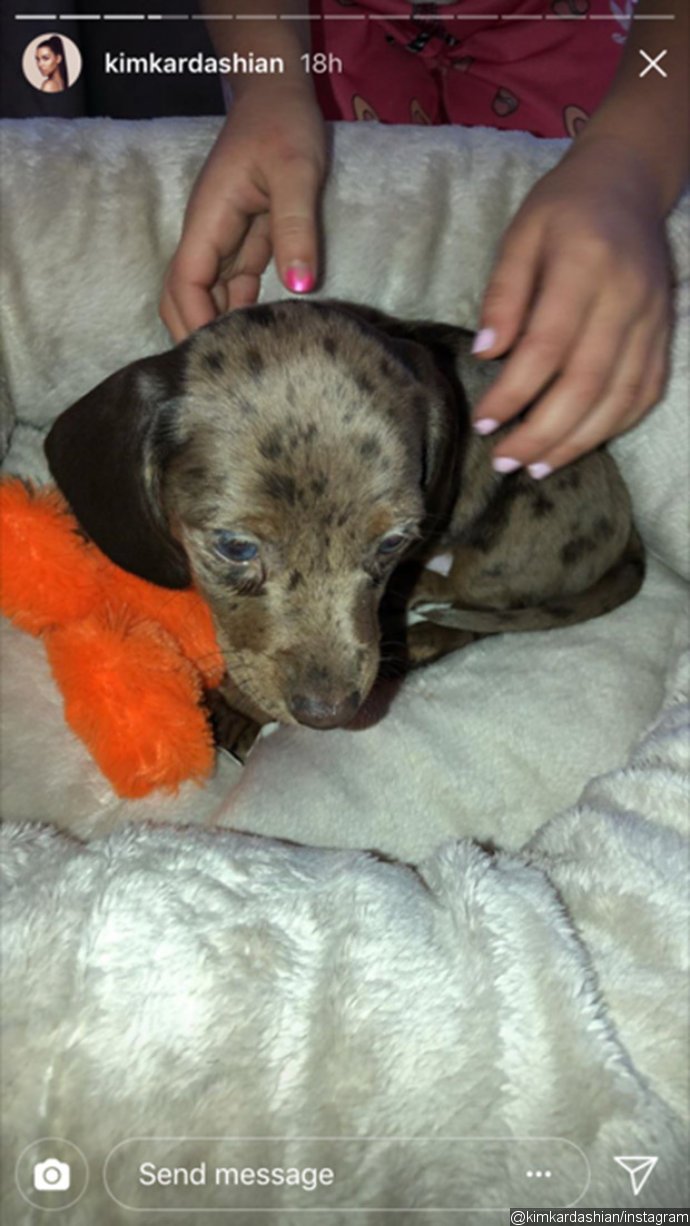 Furthermore, it's unclear if Kim could have just been paying a visit at Scott's home without Sofia even there.
This comes after Kim appeared to give Scott her stamp of approval to date Sofia. In the February 11 episode of "
Keeping Up with the Kardashians
", the 34-year-old restaurateur's relationship with his much younger girlfriend was a hot topic, after momager
Kris Jenner
, who was at NYC for Fashion Week, asked the wife of
Kanye West
over the phone, "What is going on with Scott and Sofia?"
"I've started to see pictures of Scott running around New York and whatever makes him happy, I don't judge, I don't care," Kim said in her confessional sit-down. "I think it's a good thing. I just hope that he's making good choices and having fun and nothing's getting crazy."
Scott and Sofia first sparked romance rumors in May last year after they got flirty on a yacht in Cannes, though the model denied them via her Twitter account, insisting that they're just "homies." They continued to show major PDAs in several outings, before finally confirming their relationship in late September.