Warner Bros. releases official first pictures of Johnson and his co-star Naomie Harris in the upcoming monster, action-adventure film.
Dwayne "
The Rock
" Johnson only
teased
his fans about his involvement in next year's "
Rampage
" on Instagram months ago. And now, Warner Bros. has released official first-look photos of the film featuring Johnson and his co-star,
Naomie Harris
.
In the film, Johnson portrays the role of Davis Okoye, a heroic primatologist who doesn't get along pretty well with people, but befriends animals easily. His best friend is George, a rare, albino silverback gorilla that he has been caring for since its birth. Then, an experimental serum goes wrong, resulting in rapid, enormous growth to George and other animals. Consequently, the world is on the brink of destruction because of the enlarged and enraged creatures, and Johnson's character has to save the world with the help of his now-giant best friend.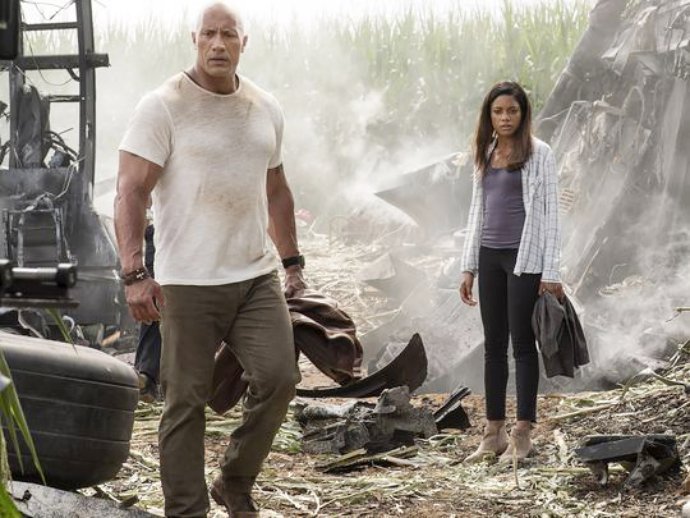 Speaking about his character, Johnson told USA Today, "When animals like you, they lick you. When they don't like you, they eat you. That's his philosophy, which has gotten him far in life." The former wrestler stated that the film would be an intense disaster film with a touch of classic monster nuance. "These monsters are relentless, and audiences are going to find that ride very exhilarating. As an actor in the movie, it's fun and daunting," said the actor.
George is played by Jason Liles, a mo-cap actor whose height is 6 ft. 9 inches. Okoye's partner, a disgraced genetic scientist Dr. Kate Caldwell, is played by Harris, and a government agent whose side is not yet revealed is played by
Jeffrey Dean Morgan
. The film's villainess, Claire Wyden, is played by Swedish-born actress
Malin Akerman
. Brad Peyton helms the film, which reunites him with Johnson after they worked together on "
San Andreas
" and "
Journey 2: The Mysterious Island
".
To prepare for his role, Johnson spent his time with animal experts in order to understand a silverback gorilla's energy, psychology and behavior. The "
Baywatch
" actor said that his preparation made him realize how important it is to take care of near-extinct gorillas, and he adopted a baby silverback at Atlanta Zoo. Johnson gushed, "I was an animal lover before, but after this, my love has become boundless."
"Rampage" is set for an April 20, 2018 release in the U.S. The first trailer is reportedly due out on Thursday, November 16.