The 23-year-old shares a sexy Instagram photo which shows her giving an eyeful of bosom as the strap of her top was pulled down.
Courtney Stodden
is no stranger to sharing racy photos of her on Instagram. The former "
Celebrity Big Brother
" star took to the photo-sharing site on Wednesday, August 30 to treat her followers to a new sexy photo of her nearly flashing her nipple as she appeared to wear no bra.
In the snap which she captioned with "Sadness is contagious," Courtney could be seen sporting heavy makeup while looking down. Rocking her
Marilyn Monroe
-inspired blonde tresses, the reality TV star gave an eyeful of bosom as the strap of her top was pulled down.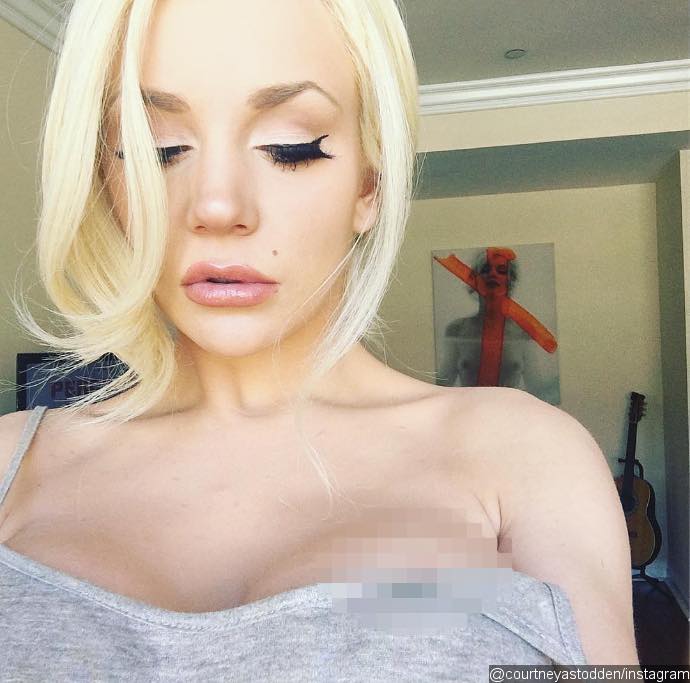 Courtney turned 23 on August 29. After sharing the sexy photo along with "sad" caption, she received warm congratulatory messages from her fans. "Happy birthday babe. Hope you're doing alright. We all love and support you," one of them wrote in the comment section.
"Hope you feel better. Please talk to someone and cry because it always makes things better," another said. There's also someone who thought that Courtney's "missing Doug," referring to the model's estranged husband Doug Hutchison.
Courtney and her much older husband separated earlier this year after nearly six years of marriage. She recently discussed the heartbreak she's been through after splitting from the 57-year-old actor as well as opened up about their pending divorce.
"It's still really fresh, really new, emotions are really very sensitive. He's been there for me when nobody else was for six years. He's been my rock and ultimately my family," she told
Radar Online
, adding that she and the actor remain in contact.
The blonde beauty went on to share, "We're working on a new movie that we are both going to star in together." She said that her relationship with Doug "is really interesting, to say the least -- because there are so many emotions."
"We are both heartbroken I guess and it's hard to be in each other's orbit because of that heartbreak," she added, explaining, "We've come so far together and for us to just choose to split and to still be collaborating on business, it makes for a kind of interesting dynamic."