Wendy Barlow writes in a Facebook post that the wrestling icon remains in 'critical condition' at an Atlanta hospital as he is suffering from 'multiple organ problems.'
After undergoing
a non-heart related surgery
on Monday, August 14,
Ric Flair
a.k.a. the Nature Boy remains in "critical condition" at an Atlanta-based hospital. According to the wrestling icon's fiancee Wendy Barlow, Ric is suffering from "multiple organ problems."
"I have been unable to talk on the phone without crying and just feel shocked over events," says Wendy in a Facebook post, of which TMZ posts a screenshot. "I took Ric to the Hospital Friday night with Severe Abdominal pain. From that moment on it all seems like a nightmare… multiple Organ problems."
"Not to go into too many details I want everyone to know he still needs Prayers as he is still in Critical Condition. And No he did not have Colon Surgery… It was another Surgery!" she continues. "I don't know how the Media comes up with their stories. I have been by his side since Friday and will continue to make sure he is getting the best care possible. Thanks for all the support and Love (emoji heart)."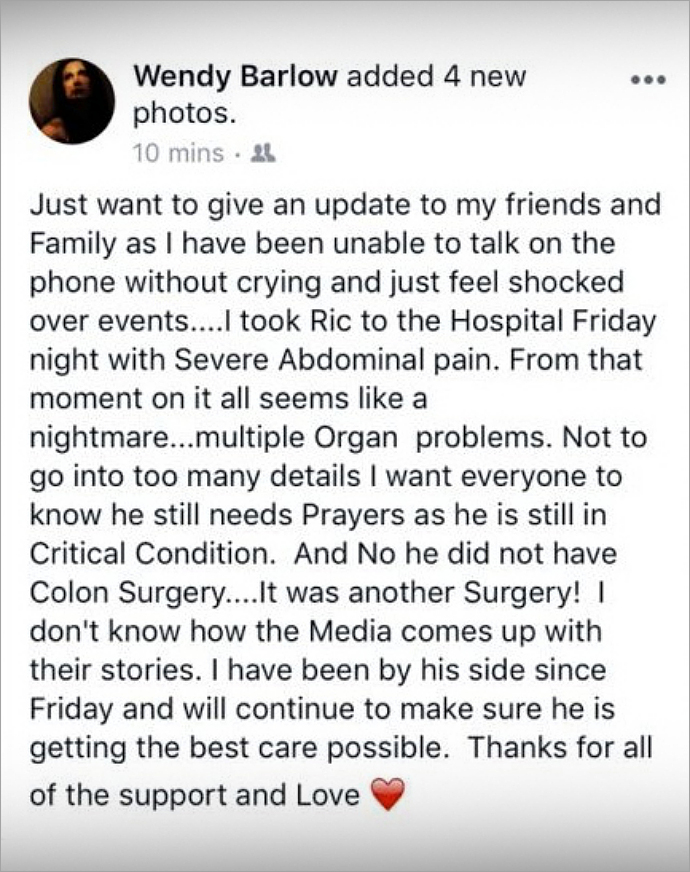 The WWE Hall of Famer's daughter, Charlotte Flair, has taken to her Instagram account to address her father's condition as well as thank people for the support. "Hi guys, On behalf of my family and I, we want to THANK everyone for the prayers, texts, calls and support," she writes alongside a picture of her and Ric. "Our Dad is a FIGHTER and your continued thoughts and prayers MEAN THE WORLD to us. We will update everyone when we have more information."
As previously reported, the 68-year-old pro wrestler was put in a medically induced coma earlier on Monday, August 14 to undergo a non-heart-related surgery. Melinda Morris Zanoni, the CEO of Legacy Talent LLC, took to Twitter to share the news that the surgery went well. "Ric had surgery today (not[heart emoji]related)am happy 2report it was a success," she tweeted. "Still a long road ahead so plz keep (pray emoji) 4Ric Charlotte Megan David&Wendy."
Ric is 16-time world champion before he retired from the sport in 2012. ESPN will air a documentary centering on the Nature Boy. Titled "30 for 30: NATURE BOY", the documentary is slated to be released on November 7.