The former 2NE1 member flaunts her toned body in three different kinds of swimwear for the latest issue of W Korea.
CL
never hesitates to show off her gorgeous body. The "Lifted" hitmaker recently did a sexy photoshoot in California for the latest issue of W Korea. CL surprises her fans as she dons a heavy makeup and a blonde wig.
In the photos, CL rocks three different kinds of swimwear, showcasing her killer curves. In the first photo, she is sitting on top of a rock while staring at the camera. The "MTBD" rapper shows off her ample cleavage in a pink bikini.
In another photo, she goes braless in a unique orange outfit. The outfit barely covers her backside, showcasing her booty. CL is looking to the side, making her heavy eye makeup stand out.
Lastly, she flaunts her toned legs in a one-piece striped swimsuit. She completes the sporty look with a tennis hat and a bracelet. In the black-and-white photo, CL poses sexily for the camera.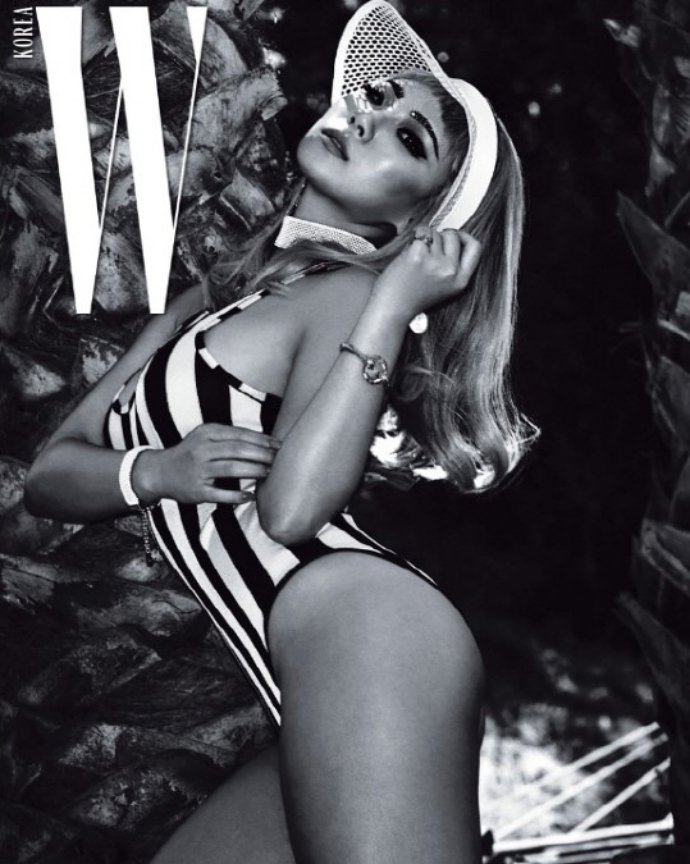 W Korea also posted on Instagram a photo of the former
2NE1
member wearing a yellow-and-purple swimsuit. Still donning the same makeup and hairdo, CL is sitting down on a flower-patterned sofa.
Fans quickly flooded the comment section with praises. "I wish my body was this perfect," a fan wrote. "Sexy Queen!!! Baddest Female right here!!!" another wrote. Other fans said that they were happy to see CL on the cover. "Main Headliner is THE QUEEN OF KPOP," a fan commented. Another said, "She the main cover. Shook!"
CL is reportedly preparing for her new album that will be released this summer.