Along with the outing of 'Punisher: War Zone' first television promo, a closer look at the scarred and mutilated Jigsaw has been provided through two brand new stills from the action thriller.
Less than a month to its theatrical release, "
Punisher: War Zone
" has got a couple of new pictures and one TV spot. The new photos are focused on
Dominic West
's villainous character, Billy Russoti a.k.a. Jigsaw. Outed by Superhero Times, the pair of images reveal the scarred and mutilated face of Punisher's foe.
Beside the pictures, a new TV spot has been put forward by Comic Book Movies. Half a minute long, the television promo wastes no time in exposing more and more never-before-seen footage from the Lionsgate Films movie. Providing fans with action sequences, it also gives out the enraged Jigsaw in action, aiming his gun to someone unseen in the scene.
To be differentiated from the 2004's "
The Punisher
", "War Zone" is a new adaptation of the Marvel's character by director Lexi Alexander and a team of writers, Nick Santora, Kurt Sutter, Matt Holloway and Art Marcum. Starring
Ray Stevenson
as Frank Castle, it tells the story of the ruthless vigilante right from the beginning when he sets sight on overeager mob boss Billy Russoti. The film will be hitting the U.S. big screen on December 5.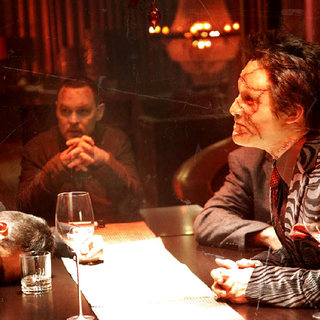 TV Spot: